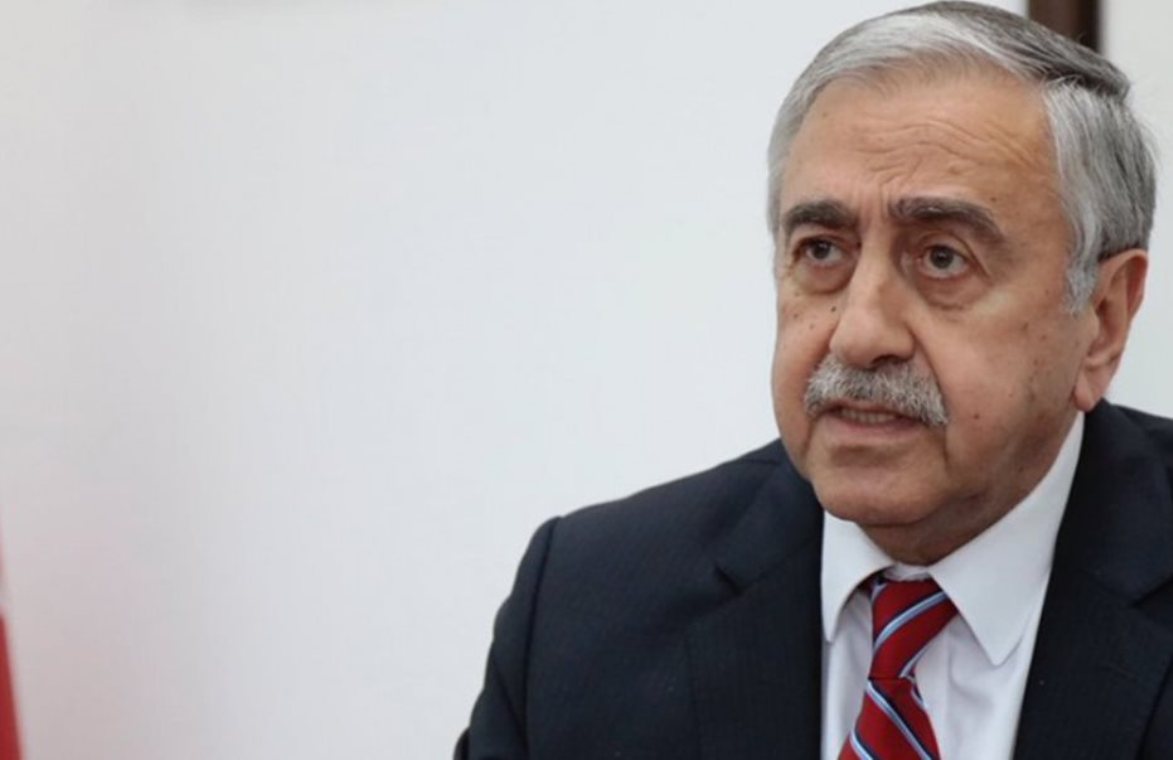 Attacks and threats continue; they are sending him black wreaths
By Michalis Michael
Threats and attacks on social media against Turkish leader Mustafa Akinci continue unabated, following his stance against Turkey's invasion of Syria in a related post. The upheaval in the occupied territories is great. He has turned the post from public to private, but this has had little impact, as verbal attacks continue, with some calling for his resignation, while others have gone so far as to send black wreaths to the so-called presidential mansion.
Turkish Cypriot leaders Mustafa Akinci said in a written statement that the views he had expressed on social media a few days ago about Turkey's intervention in Syria were his sincere views, which he believes, however, have been distorted. "Instead of understanding these ideas correctly, there has been unfair and disproportionate criticism and, moreover, attacks with disgusting profanity and threats thrown through social media. This low level continues", he said.
Undoubtedly, he added, our common desire is to get rid of the scourge of terrorism, which as he said has stressed on various occasions. However, he expressed the view that it is time to end the wars raging for 10 years in Syria. It is inevitable, as he said, for all peoples here and in the region to create a system of dialogue with which they can live in peace. It is necessary, he added, to create a situation in which Syria can maintain its borders, its territorial integrity, and Turkey feel safe at its borders.
In this context, he said, it is necessary to renew relations between Turkey and Syria. "That is precisely why diplomacy and dialogue are essential. In the same context, by improving its relations with other countries in the region and the EU, I believe that Turkey will be much stronger. In this respect, my call for diplomacy and dialogue that was considered as a call for dialogue with terrorist organizations and and attempt to exercise policy is nothing more than a distortion", he said. He also regretted the unfair and painful expressions used against him and wondered since when it was a crime to defend peace.
He said Turkish Cypriots attach great importance to friendship and fraternity ties with Turkey and that during his term he tried to develop relations based on mutual respect, "but it is not always possible to think the same way and display the same behavior on every subject". "Respect of different views is a prerequisite for a healthy relationship", he said.
Criticism of parties and "officials" of the pseudo-state
The majority of the Turkish Cypriot parties in the "parliament" of the occupied territories today expressed their strong opposition to Mustafa Akinci's statement on Turkey's intervention in Syria, with some even calling for the resignation of the Turkish Cypriot leader. At the same wavelength are statements by both the "prime minister" in the occupied Ersin Tatar and the "foreign minister" Kudret Ozersay, with the first calling for the immediate establishment of a "parliamentary" committee which would wish good luck to Turkish troops in Syria.
Today's "House" session began with a minute's silence in memory of the Turks who were killed during Turkey's intervention in Syria and in 1974 in Cyprus. "Prime Minister" Ersin Tatar said he saw Akinci's statement with regret and did not understand what he was aiming for. He said that after a long struggle Turkish Cypriots "don't have the opportunity to live in their own state" and added that they were aware of Turkey's contribution to it.
He added that the guarantees cannot be terminated and claimed that if the Turkish army did not come to Cyprus there would be no Turks on the island. He criticized Akinci's statement on Turkey's intervention and said that these statements do not represent the Turks of Cyprus, contradicting the view that the "president" should represent the whole "people". He also called for the immediate establishment of a "parliamentary committee" to assess developments and wish success to Turkish troops, noting that the "committee" should be set up today and make the statement by tomorrow.
Erhan Arikli, a member of the Nationalist Renaissance Party, said the pseudo-state should have expressed support for intervention in Syria from day one. Saying that the Akinci statement is unacceptable, he said, however, that the attacks on Mr Akinci are also unacceptable as everyone should respect the "institution" of the "presidency". He added that Mr Akinci's participation in trilateral and pentamer meetings is meaningless, calling on him to resign and go to snap polls./ibna