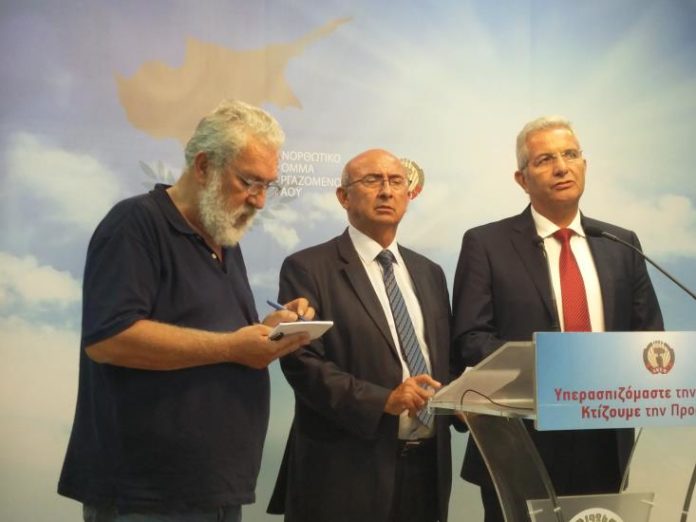 Nicosia, September 7, 2016/Independent Balkan News Agency
Left wing opposition party AKEL and the Turkish Cypriot Communal Democracy Party (TDP), have agreed to cooperate and contribute towards the efforts for finding a solution to the Cyprus problem.
Delegations from the two parties held a meeting on Wednesday at the AKEL offices to discuss the latest developments in the direct negotiations between the leaders of the two communities, President Nicos Anastasiades and Turkish Cypriot leader Mustafa Akinci.
Speaking after the meeting, AKEL General Secretary Andros Kyprianou noted that both parties consider as very crucial the current phase of the negotiations for the future of Cyprus and its people. He added that the two parties support finding a solution based on international law, the EU principles and values, the High Level Agreements and the UN relevant resolutions.
President of the Communal Democracy Party Cemal Ozyigit said that the next meetings of the two leaders on 10th and 14th of September are crucial. During the last one, he noted, there is a possibility to announce what has been done so far and thus to have a picture about the future of the country.
Ozyigit said that both parties express their common view and position that the Cyprus issue should be solved soon and pointed out that with AKEL leadership they agreed to work closely and intensively for a solution.
Cyprus has been divided since 1974, when Turkish troops invaded and occupied 37% of its territory. Anastasiades and Akinci have been engaged in UN-backed talks since May last year with a view to reunite the island under a federal roof.
Source: Cyprus News Agency
Photo: Cyprus News Agency