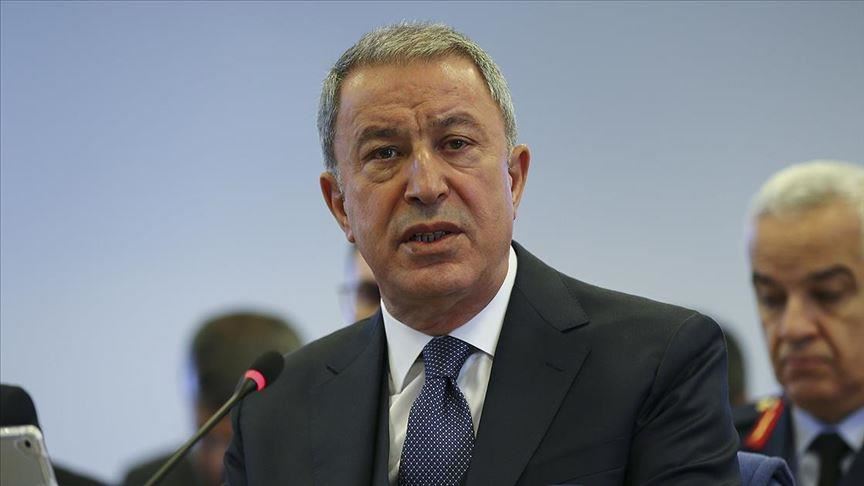 Turkey's Defense Minister Hulusi Akar accused Greece of violating conditions, militarizing 16 islands and illegally claiming 10 miles of airspace!
A few days before the talks on Confidence Building Measures (CBMs) between the two countries kick off, Akar stated in Hurriyet newspaper: "Greece's approach makes it difficult to find common ground. Greece has militarized 16 of the 23 islands since 1936 in breach of treaties. At the same time, in an unprecedented way it claims that the country's airspace extends to 10 miles, while its territorial waters reach 6 miles. This makes no sense".
Turkey's defense minister added: "Greece is our ally in NATO and we expect them to remain faithful to good neighborly relations and the conditions they have signed. We will not tolerate any violation of our rights in Cyprus, the Aegean or the Eastern Mediterranean. We will not allow decisions to be taken against our rights. We have made it clear that no plan will have any luck unless we are part of it".
When it came to the Cyprus issue, the Turkish minister appeared more threatening. He stressed that "in Cyprus, we constitute a guarantor force and we will uphold our rights as well as those of our Turkish Cypriot brothers. No one should think of testing our strength".
As for Libya, Hulusi Akar openly acknowledged the involvement of Turkey's military forces. "As you know, Fayez Sarraj, the head of Libya's legitimate government, wrote a letter to our President asking for help. We did our job to this end. We dispatched the necessary military and technical assistance for educational and advisory purposes. Our friends work there. When needed, some of our ships operate in the region in the national context and within the NATO Alliance", he explained.
Hurriyet 'A third drilling vessel on the way'
The Turkish oil company (TRAO) has purchased a third floating drilling rig, according to the Turkish daily Hurrıyet. The "Sertao", as it is called, constructed in 2012, was auctioned off at the price of only 37.5 million dollars on January 31, while its market price today reaches $ 120 million. The "Sertao" is larger than the "Fatih" and "Yavuz" which are already conducting drilling operations in the Cypriot Shelf. According to Hurriyet, this new vessel can reach depths of 11,200 meters. "Sertao" is currently in Wales.
A few weeks ago, Recep Tayyip Erdogan announced that Ankara would be carrying out research and drilling operations in areas it has agreed upon with Libya on maritime responsibility. At the same time, he announced that Turkey would be attempting to purchase yet another drill.
A similar statement was made last Friday by a representative of the Turkish Presidency. Immediately after the cabinet wrapped up, Ibrahim Kalin said that "given our agreement with the official government of Libya, we will continue our seismic researches and drilling operations in the Eastern Mediterranean, but also in the areas we have agreed upon with Libya. On this issue I must stress that we are determined".
Ankara is preparing a front in Idlib
Amidst this climate, Turkey has dispatched hundreds of military vehicles to the Syrian province of Idlib, after Assad's military forces have taken control of almost the whole M5 motorway that passes through Idlib province and links Aleppo with Damascus.
The development of new Turkish forces came at a time when Turkish and Russian officials were discussing developments in Ankara's last major opposition enclave in Ankara.
These discussions lasted at least three hours and were held behind closed doors at the Turkish Foreign Ministry.
According to the Syrian Observatory for Human Rights, which is monitoring developments on the Syrian fronts, 430 Turkish military vehicles have been deployed in Idlib over the last 24 hours.
Turkish forces are also building a new outpost in Al-Mastumah, south of Idlib.
Anadolu Turkish agency reports that 350 vehicles carrying special forces men and ammunition have been shipped to the area since Friday.
In an effort to demonstrate its sovereignty in the region, the Syrian state television went live from the city of Saraqib, just 20 kilometers from Idlib and now fully controlled by President Bashar al-Assad's forces. /ibna