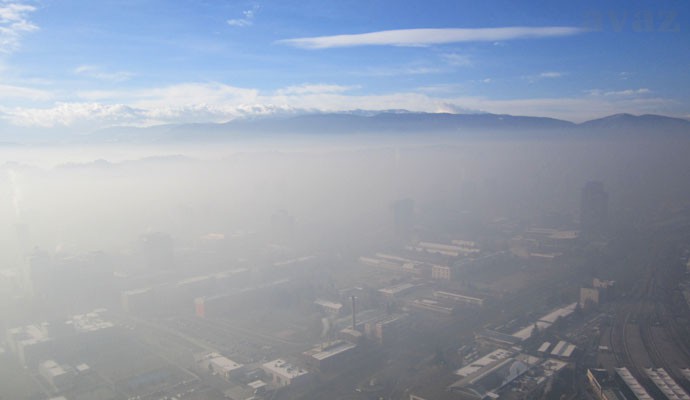 By Maja Tuljković – Sarajevo
Air pollution in several cities in B&H has exceeded the permissible levels during this month, and people's health is seriously threatened, experts warn. The most difficult situation is in the urban and industrial centers such as Sarajevo, Zenica and Tuzla.
The operational headquarters for the implementation of emergency measures of municipality Zenica declared yesterday afternoon an alert due to the excessive air pollution. Their statement informed older people, those who are chronically sick and children to not be outside for long, and to prohibit the movement of motor vehicles that do not have a built-in catalyst converter. Businesses that use solid fuel and heavier fuel oil are required to temporarily suspend production, if there is technological possibility to do so. The nonprofit organization Eko Forum from Zenica confirmed that a record concentration of SO2 has been recorded in this city.
''Measuring devices that show a concentration of sulfur dioxide ceased to work because they have exceeded the limit of 1400 micrograms per cubic meter, and this is something that measuring devices can no longer show. This is such an alarming situation, that final our appeal reached the operational headquarters, headed by the Mayor, and they declared a state of emergency'', said President of Ekoforum Zenica Samir Lemeš.
The proposed measures for citizens are short term and will help only under these unfavorable weather conditions (stable weather accompanied by dense fog). The problem is that this will continue because the Zenica-based Arcelor Mittal, the largest  manufacturer of steel in B&H, continues to delay with its planned environmental projects, and contributes to the production of pollutants in this city.
''Increased air pollution comes from domestic furnaces, given that citizens of Zenica pay the most for heating in the region, even though they should be getting this for free, like it was before the war. It is similar in Sarajevo, because Russia dictates the price of gas, which is expensive for the citizens, so they switch to the use of coal, which has a lot of sulfur dioxide. This state comes from meteorological conditions and sulfur dioxide'', said Lemeš.
Winter air pollution can leave lasting effects on people's health. There are direct implications for the chronically ill, but the catastrophic long-term exposure to these toxins, which are known to be carcinogenic and pathogenic, can cause disease in subsequent generations. The 'Mothers of the City of Zenica' confirmed this, who said that children from Zenica have had enough of breathing air pumps and inhalation therapy, and that the government has to do something immediately regarding the air pollution.
In the next few days, Ekoforum Zenica will call all nonprofit organizations to work together and put pressure on the government, because the government is responsible for doing something to fix the situation. They emphasize that only pressure from civil society and nonprofit organizations can make the government do its job when it comes to pollution, because this is not a hopeless situation.
The state of emergency in Zenica will be active until weather conditions improve and measures at all three measuring stations will normalize. Meteorologists say that this kind of weather condition (stable weather accompanied by dense fog) will last until the middle of next week, so the only thing left for citizens to do is to 'escape' from the city to the mountains. It is unbelievable that the last few days were sunny, but citizens of Zenica did not see a single ray of sunshine since the city was covered with a thick layer of smog.