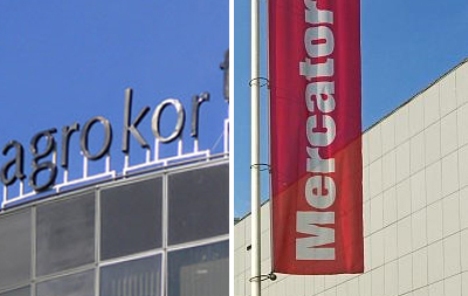 The supervisors of Slovenia's leading retailer Mercator have accepted the resignation of CEO Toni Balažič and appointed Tomislav Čizmić, an executive of Mercator's struggling Croatian owner Agrokor, as his successor.
Mercator's supervisory board met in Zagreb yesterday after the heavily indebted Agrokor got a new leadership on Tuesday that will oversee the food group's restructuring.
Mercator spoke today of a consensual, no-cause dismissal of the Slovenian manager, who stayed on as the retailer's boss after the 2014 takeover by the Croatian food group and still had more than two years left in his term.
The supervisors did not replace Igor Mamuza, the only other member of the Mercator management board, which shrank from four to two members in 2016.
Balažič, who is leaving with a severance bonus, told the press in Ljubljana this afternoon that he was proud of his performance in Mercator, as the retailer remained a reliable payer to the state, workers and suppliers despite all the developments on the market.
He is convinced that the company will continue operating successfully under the new leadership and retain the trust of consumers.
Čizmić, who will start his five-year term tomorrow, has announced a responsible attitude to buyers, employees, suppliers and the social environment on all markets, the retailer wrote.
"Of course I'm aware of the complexity of the situation, but I'm convinced we will work well and meet all responsibilities to our partners, continue the development of Mercator and strengthen its position on the market," the new CEO said.
Čizmić, who pointed out Mercator remained the biggest employer in Slovenia, joined the Mercator group in 2013, first as management board member and then as chairman of Mercator Hrvaška.
In September 2014, he took over the most demanding project in the group, the integration and synergy generation for Mercator and Agrokor on five markets, Mercator wrote.
He has also served as assistant director general of Mercator Srbija and was involved in key projects in Slovenia as assistant management board member and director for business support./IBNA
Source: The Slovenia Times