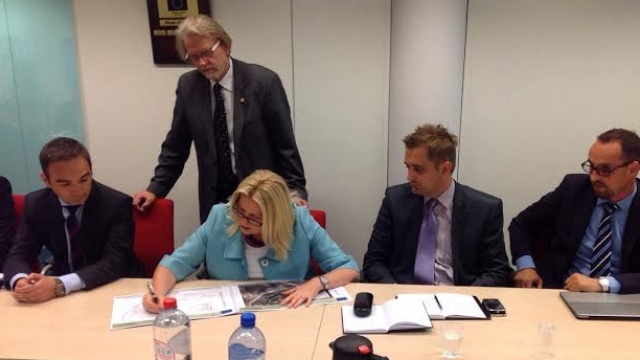 Pristina, September 5, 2014/Independent Balkan News Agency
As part of the talks for the normalization of relations, an agreement was signed on Thursday afternoon in Brussels for the construction of the permanent buildings of the Integrated Border Management (IBM), between delegations of Kosovo and Serbia with the intermediacy of the European Union.
Head negotiator of Kosovo, deputy prime minister, Edita Tahiri declared that the agreement for the construction of the permanent buildings is of a crucial importance.
According to her, this rounds up the full implementation of the IBM Agreement and Technical Protocol, which means that the two states will collaborate in the domain of Integrated Border Management based on the highest EU standards.
"This agreement has been negotiated for a year now and its finalization marks a contribution of all parties for the facilitation of the free movement of people and goods, the  increase of the quality and security of border control and it also serves to deliver the criteria needed for the liberalization of visas for Kosovo", declared Tahiri.
She also reconfirmed that the Republic of Kosovo remains committed in the implementation of the Brussels' agreements and the process of the normalization of relations with Serbia and for the advancement of good neighboring policies in its EU path.
This agreement foresees the construction of six border crossing points based on the IBM concept with all the necessary infrastructure and with the highest EU standards.
These permanent border crossing points will be built with the funds of the European Commission, namely the IPA funds consisting of 21 million Euros.
The construction of these border crossing points is expected to start next year.
Delegation of Kosovo praises the engagement and contribution of the EU for the signing of this agreement and its engagement to fund the full construction of these border crossing points between Kosovo and Serbia. /ibna/