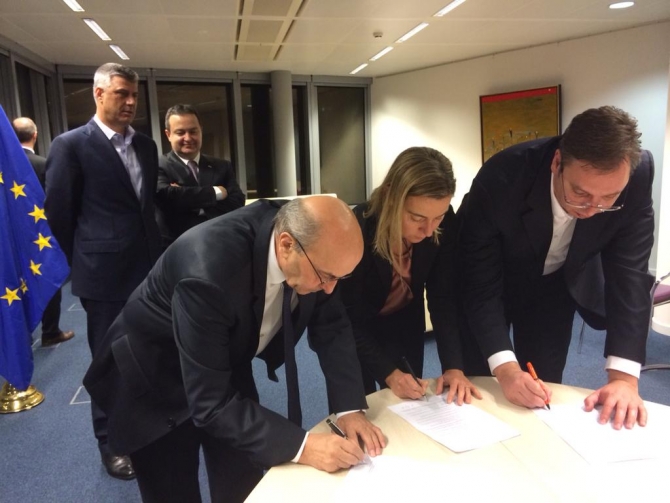 IBNA Special Report
Pristina, February 11, 2015/ Independent Balkan News Agency
By Elton Tota
The agreement reached in Brussels between Kosovo and Serbia for the justice system, was considered as very important by members of the government of Kosovo.
Minister of Justice, Hajredin Kuci says that the agreement that was signed by PM Isa Mustafa and his Serb counterpart, Aleksandar Vucic, preserves a unique justice system in Kosovo.
He says that the north will only have one court and one prosecution.
"The agreement aims to integrate the north in the framework of our justice system, which has been outside of our system for some time. This agreement preserves a unique system of justice, with an applicable law throughout the country and with full authority of the central government even in that part".
According to him, the implementation of this agreement is a step toward the full integration of the justice system throughout the entire territory of Kosovo.
But, opposition representatives and analysts say that they have no information or details about this agreement. According to them, the government of Kosovo must be transparent by revealing details of the agreement reached in Brussels.
The leader of Self Determination, Albin Kurti, the largest opposition party in Kosovo, said that the agreement that was negotiated by Kosovo's PM without the consent of parliament, will lead to a justice system in the north of Kosovo, which will be led by the Serbs.
"We have not yet seen the agreement, but we cannot see it, because the talks have been conducted in secrecy. There was no notification and no consent by parliament for what happened in the early hours of Tuesday morning. It's clear that the Brussels' dialogue is not a dialogue for the normalization of relations between Kosovo and Serbia, but it's dialogue to sabotage the state of Kosovo", said Albin Kurti, leader of the largest opposition party in Kosovo.
Meanwhile, expert of legal issues, Irza Smaka says that with this agreement, Kosovo has not been able to preserve a unique system of justice in Albania.
According to him, there cannot be a unique justice system if a Court of Appeal is appointed and which would provide political autonomy for the association of northern communes.
"This is also ruining the system sanctioned in the Constitution, which says that Kosovo is a unique Republic", declared Smaka.
According to him, the worst thing is that the agreements being reached in Brussels are not being ratified in the parliament of Kosovo.
A few days ago, an agreement was reached in Brussels on the justice system, which foresees the creation of a court in the north, which will have the same number of judges and prosecutors.
The number of Albanian and Serb prosecutors will be nine for each and the chief judge will be a Serb.
The agreement on the justice system has given hope to Albanians of the north of Mitrovica, who were expelled by the court of the north after the proclamation of the Independence of Kosovo.
The chief judge of the Court of First Instance in Mitrovica, Kada Bunjaku-Percuku said that she's looking forward to return to the court in the north in order to continue with the cases that were left incomplete when they were ousted by the Serbs. /ibna/