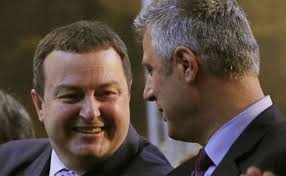 Pristina, December 13, 2013 / Balkan Independent News Agency
Today's meeting between the prime minister of Kosovo, Hashim Thaci and that of Serbia, Ivica Dacic has ended without an agreement.
"We had a constructive meeting. We agreed on the fact that there must be a unique system of justice, but we couldn't strike a deal", said Hashim Thaci after the meeting.
Today's meeting was the second meeting after the second round of local government elections in Kosovo, which marked the first time that Serb citizens from the northern communes of Kosovo participate.
Since the launch of the official talks of a high level between Pristina and Belgrade, Friday's meeting was the 20th between prime ministers Thaci and Dacic.
For this year, no other round of meetings has been planned.
The office of baroness Catherine Ashton had considered this meeting as decisive, because had it produced an agreement, especially on the issue of courts in the north, concrete steps would be taken in the integration of both countries in the EU and normalization of relations between the two countries. /ibna/