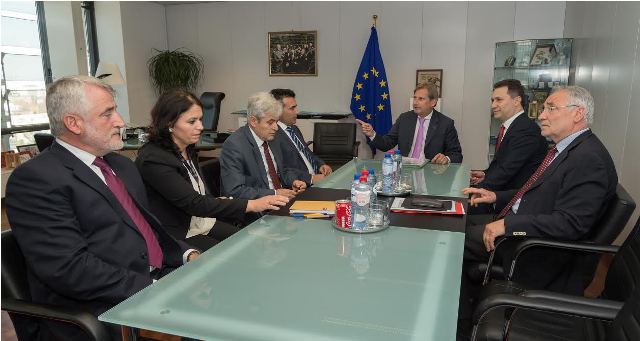 Skopje, 11 June 2015/Independent Balkan News Agency
By Naser Pajaziti
The leader of the four main political parties and European Enlargement Commissioner Johannes Hahn have failed to reach an agreement last night about the political crisis in FYR Macedonia.
An agreement was not reached because the Macedonian opposition leader, Zoran Zaev has insisted for PM Nikola Gruevski not to chair the interim government which would organize the early elections.
Another second proposal was not accepted either. Based in this proposal, Gruevski was to remain prime minister until three months before the elections and then a technical government was to be created.
Gruevski has proposed for the interim government to be chaired by the leader of opposition Zoran Zaev, but this proposal was considered ridiculous by Euro Comissioner Hahn and was not discussed at all.
Following a 12 hour negotiation, the European Union has come out with a statement stressing that the talks have been open and detailed, but they have not led to a final agreement.
"The European Union demands from all sides to reach a long term compromise without any delay and implement the June 2 agreement reached in Skopje, where the sides agreed on reforms and on holding early elections in April 2016", reads the statement of the EU, adding that the talks for the solution of the political crisis.
On his Twitter profile, Euro Commissioner Hahn has written that he's disappointed by the lack of responsibility and leadership of some Macedonian leaders. "People deserve better: democracy, rule of law and a European future. We will not give up", Hahn wrote.
Meanwhile, leaders of the two Macedonian parties, Nikola Gruevski of VMRO-DPMNE and Zoran Zaev of SDSM (Macedonian Social Democratic Union) have exchanged accusations about the failure to reach an agreement.
Prime minister and leader of VMRO-DPMNE, Nikola Gruevski declared that the leader of opposition didn't want to reach an agreement, because he had not arrived to Brussels for an agreement. "Zaev has created an atmosphere which clearly shows that he doesn't want an agreement to be reached. He's clear about the fact that if an agreement was reached, he would have to run for the elections. This man is scared of the elections. He knows that in the next elections he will lose and he will suffer the biggest defeat ever suffered by his party. Zaev wants neither agreement, nor elections", Gruevski declared.
Meanwhile, opposition leader Zaev has blamed Gruevski for the failure of the negotiations.
"The negotiations for the solution of the crisis failed because it's clear that the person who has caused the crisis in Macedonia, Nikola Gruevski, continues to lead the government that is supposed to organize early elections. Our conditions are clear. We want an interim government without Gruevski as a PM and in it, but Gruevski is doing everything in order to remain prime minister. If we have fair and democratic elections, he will suffer a big defeat", Zaev declared.
The leaders of the two Albanian parties, Ali Ahmeti of BDI and Menduh Thaci of PDSH have not issued any declaration for the media. Present in the talks were also European Parliament rapporteur on FYROM, Ivo Vajgl, US ambassador to Skopje, Jess Baily, European ambassador, Aivo Orav and general secretary of the foreign affairs service of the EU, Alain Le Roi. /ibna/