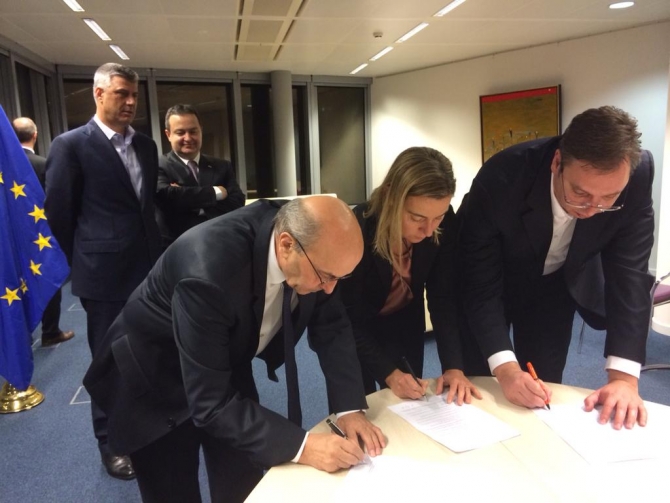 IBNA Special Report
Pristina, February 10, 2015/Independent Balkan News Agency
By Elton Tota
The new round of talks for the normalization of relations between Kosovo and Serbia has been successfully achieved.
Kosovo's PM, Isa Mustafa and his Serb counterpart, Aleksandar Vucic, signed in the early hours of Tuesday the agreement on the justice system in the northern part of Kosovo.
The agreement was confirmed by the head of EU diplomacy, Federica Mogherini.
"The two PMs finalized the agreement on justice and judiciary system in Kosovo, thus closing the chapter on the implementation of the Brussels' Agreement, which will improve the life of the people in general. I praise Isa Mustafa and Aleksandar Vucic on this achievement", said Mogherini in a declaration after this meeting.
"PM Vucic and PM Mustafa discussed a number of issues relating dialogue and concluded that there's still a lot of work to be done", said Mogherini adding that in the days to come, work groups will gather in order to advance with implementation.
According to the European negotiator, the two prime ministers exchanged their views on what lies ahead of them and confirmed their commitment to continue and make progress in the normalization of relations.
PM Mustafa and PM Vucic agreed on working together in order to address current regional problems and in particular, the problem relating to illegal emigration from Kosovo.
Mustafa said after the meeting that the agreement on the justice system is important for Kosovo, because according to him, it secures the functioning of a unique judicial system in Kosovo.
"We will continue with other topics in order for the entire country to be integrated and for sovereignty to rule across the entire territory", said Mustafa in front of journalists.
He said that the date for the next meeting has not yet been decided, but he's expecting for this meeting to take place soon.
After the meeting, PM Vucic described the talks as "difficult", while saying that this agreement guarantees the participation of Serb judges in the north of Kosovo.
Vucic said that the delegation of Kosovo has insisted for the "Peace Park" over Iber river bridge to be discussed during the talks.
"We didn't want to discuss on this, but on Trepca and the Association of Serb Communes", said Vucic.
The last meeting between the prime ministers of Kosovo and Serbia in Brussels was held on March 31 of last year.
At that time, the delegation of Kosovo was chaired by Hashim Thaci, while that of Serbia by Ivica Dacic. The negotiator at that time was EU chief of diplomacy, baroness Catherine Ashton. /ibna/