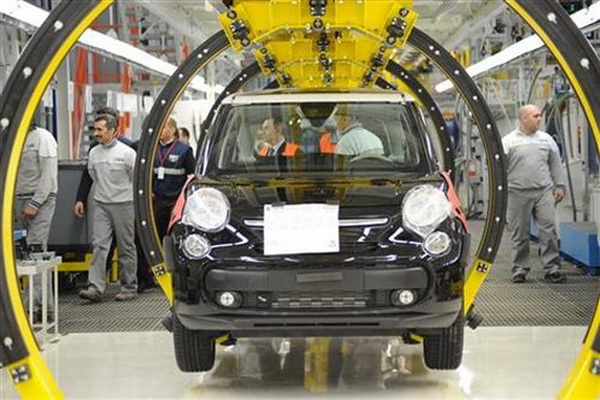 The representatives of the Independent Trade Union and Fiat management have signed an agreement on the continuation of the working process in Kragujevac factory. At the same time, the content of the agreement is not known since neither the union nor the management did not reveal the details.
On Monday, the Government of Serbia and the Independent Trade Union announced different percentage for the salaries increase; additionally, the government said that the increase means harmonization with the projected inflation.
"As early as on Moday evening it was clear that the figures of the union and the government do not overlap. Namely, the union has informed the employees that an increase of 9.54 percent has been agreed, while the government stated that the increase would be 6.7 percent in accordance with the inflation", N1 television reported today.
At the press conference in the government building today prime minister Ana Brnabic promised journalists "no questions": "I don't want anybody to answer on additional questions today, especially because a good compromise has been reached and because I don't want the opening of some issues – with the questions – on which compromise has been reached because it could then be jeopardized".
The government is the minority owner of the Fiat factory in Kragujevac. According to some analysts and opposition, it acted as Italian company's PR service during recent strike that lasted 16 days. The government members have been accusing strikers for attempt to deport Fiat from Serbia.
The representatives of the government said that the revealing of the real salaries increase was "impossible". "According to the corporative rules of the Fiat company, the agreement cannot be publicized", Brnabic said.
Zoran Markovic, the leader of the Independent Trade Union, told Beta news agency that the increase would be 9.54 percent. When asked how come that government has mentioned different figure, Markovic said that he knows what he had signed.
The rival trade union "Independence" was dissatisfied with the agreement and announced lawsuit against Markovic.
Serbian president Aleksandar Vucic praised the agreement in very symbolical manner – namely, from Rome, where he met today Italian prime minister Paolo Gentiloni.  "I was very joyful this morning, when I received that news (on agreement) before meeting with Gentiloni ; somehow, it was good sign, we have both smiling and were joyful because of that", Vucic said.
And in case that workers would not be joyful, they would not be able to strike in the next three years, according to the new collective agreement, N1 concluded./IBNA