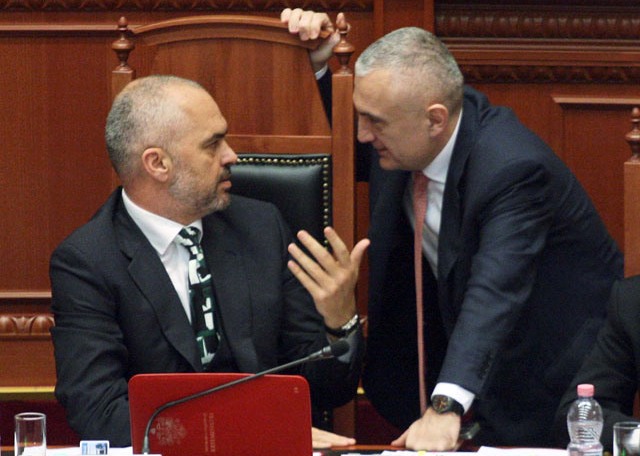 An increase in tones within the left wing majority has led analysts to believe that this is the end of the coalition between PM Edi Rama and speaker of parliament, Ilir Meta.
Several ministers and MPs of the Socialist Movement for Integration led by speaker of parliament, Meta, the second largest party of the coalition, are accusing the Ministry of Interior and SP that they are working hard to rig the upcoming elections.
These accusations and criticism have not been accompanied by a direct response by Rama or his Interior Minister, Samir Tahiri, but by short statements in social networks, using insulting slogans which they often use against the right wing opposition.
Amid all of this, Sunday was filled with contradicting news in several information portals. They suggested that the Minister of Justice had been discharged from office, while alluding that he was obliged to resign.
Speculations grew even bigger when in the late afternoon, a press conference was announced for Monday morning.
In the early hours of Monday, Ylli Manjani confirmed that he has not resigned and that there is no official announcement that he has been removed from office.
"I'd like to inform you that I have not handed my resignation! I have never thought of something like that! And I have no official announcement of having been removed from office", Manjani clarifies.
As far as the press conference is concerned, he said that he called this conference to announce the package of changes in the Criminal legislation following an agreement with other ministers and stakeholders. Meanwhile, he said that he canceled it "for pure health reasons".
This week is expected to bring new developments in the left wing camp. The sides have not yet officially declared if they will continue the coalition or not. The leader of SP, Edi Rama said that the coalition must continue and he has publicly invited Meta to accept this invitation.
The speaker of parliament has not issued a response, by saying that the forums of the party that he leads decide this. /balkaneu.com/