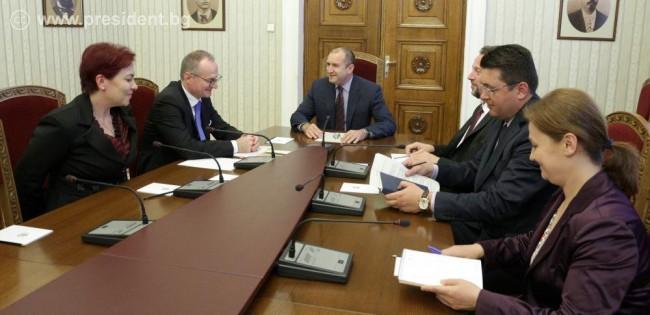 Speaking after talks on June 6 with Bulgarian head of state President Roumen Radev, the head of the country's supreme court called for the convening of a Grand National Assembly to amend the constitution and dismissed judicial reform as "mimicry".
Lozan Panov is head of the Supreme Court of Cassation, the court of last instance in Bulgaria and which is supreme in deciding both criminal and civil cases.
Panov held talks for an hour with Radev at the request of the President, who has initiated a series of discussions with senior judicial and other officials on the topic of judicial reform.
It was not immediately clear under which provision of Bulgaria's constitution the President, who has no executive authority, was acting in starting the initiative, which unsurprisingly has gained considerable interest from the media.
Panov, speaking to reporters after the talks with Radev, said that during the discussion, he had called for the removal of the prosecution fro the judiciary and its placement as a separate institution.
This would require amending the constitution, which in turn would require the convening of a Grand National Assembly.
Unlike an ordinary National Assembly, which has 240 members, a Grand National Assembly has 400. Arrived at by national elections, only one Grand National Assembly has been held since the adoption of Bulgaria's 1991 constitution.
Panov said that he believes that the removal of the prosecution from the judiciary is actually achievable and that, as an insitution, it should have status equivalent to the existing three branches of government.
He reiterated his view that judicial reform in Bulgaria so far has been mimicry.
This was the case with "Tzum-gate" – as the media terms the episode in which it emerged that the Prosecutor-General had held talks with a businessman in the office of another businessman, wealthy Plovdiv politician Georgi Gergov – Panov said.
According to Panov, Radev had "shown understanding" during their conversation.
The Supreme Cassation Court head said that Radev had told him that he would also be holding meetings with the Supreme Judicial Council and with the deputy prime minister in charge of judicial reform, Ekaterina Zaharieva.
Radev is scheduled to meet Prosecutor-General Sotir Tsatsarov on the morning of June 7.
After the talks with Panov, the President's office released a brief statement saying that during the meeting, proposals for judicial reform were discussed, as well as the prospects for the development of Bulgaria's justice system, guaranteeing its independence and the separation of powers in the country.
Since joining the EU in 2007, Bulgaria – along with Romania – has been subject to a mechanism to bring it up to the bloc's standards in justice and home affairs. In late 2015, a reformist justice minister quit the government of the time headed by Boiko Borissov, frustrated with the form of constitutional amendments, billed as furthering judicial reform, that had been backed by the ruling majority./IBNA