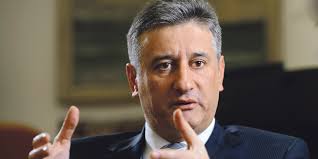 By Natasa Radic – Zagreb
Preparing for the hot political winter the opposition in Croatia is preparing for the new challenges ahead. Wanting to respond to the failure of the ruling coalition to rebuild the economy and start the economic growth, Croatian Democratic Union (HDZ) has decided to invite two foreign advisers to boost the economic team of the opposition.
HDZ has decided to invite Brit Robin Harris from the conservative think thank Politeia who has already been involved in different Croatian issues and wrote about them for number of years and Jose Pinera from Chile to join forces with national strategists and start the public debate within the Croatian society on what needs to be done in order to have the very detailed opposition economy plan that should attract the voters. Both foreign advisers are experienced and conservative in their political background and they perfectly fit into the plan of HDZ President Tomislav Karamarko (photo) to transform the party into a modern conservative party. Jose Pinera from Chile has already been involved in Croatia as he was here in 1995 when former finance minister called him for help and advising. Since then, he has been a regular guest at different conferences and has been recognized as an expert who wants to privatize the pension funds. His younger brother is the current president of Chile, Sebastian Primera.
Robin Harris, who has spend the last academic year with US Heritage foundation has been working as the adviser of British conservatives and was a member of the advisers' team of Margaret Thatcher. He was one of her speech writers. He has stayed close to the former British Prime Minister but has never accepted David Cameron's premiership, accusing him of betraying the priniciples of the conseratives.