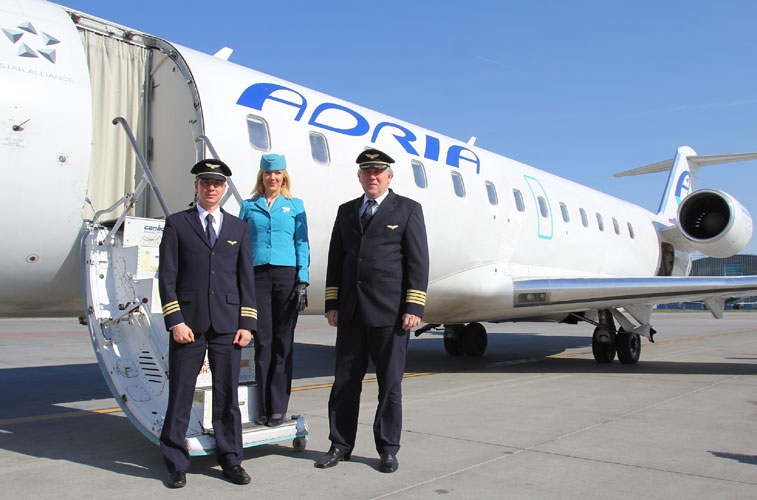 The pilots of Adria Airways went on a two-day strike over collective bargaining on Wednesday, which has already resulted in a number of flights being rescheduled with some cancellations planned for tomorrow.
According to their trade union, more than 100 pilots are on strike between 6 AM and 10 PM on both days, the reason being a reduction in pay and other rights after the old collective bargaining agreement expired.
The action has not yet caused any disruption, except for an increase in the number of queries at the Ljubljana airport call centre, said the operator Aerodrom Ljubljana.
Adria Airways plans no flight cancellations for today, but has rescheduled departure times for flights to Sarajevo, Podgorica, Brussels, Prague and Frankfurt. A few hours' delay is expected for today's arrivals from Sarajevo, Vienna, Amsterdam, Prague and Munich.
The airline has cancelled flights for tomorrow destined for Zurich, Tirana and Prishtina, as well as those from Paris, Zurich, Tirana and Pristhtina. Several other flights are being rescheduled.
Adria has 21 flights scheduled to depart from its hub at the Jože Pučnik Ljubljana Airport on Wednesday and 24 on Thursday.
The pilots union confirmed the strike after Monday's round of talks with the management "failed to result in a nearing of positions and an agreement that would secure the same scope of rights and obligations for pilots as valid until the end of February".
The press release quoted trade union boss Marjan Majcen as saying that the strike committee was "willing to keep trying until the last moment for an agreement…but will not consent to a lowering of pay and other working terms for pilots".
The failure to sign a new agreement allegedly led to a decline in conditions following 1 March and the union announced a strike could also be held on 27 and 28 April and on 25 and 26 May.
More details are expected to be presented by the union at a press conference today./IBNA
Source: The Slovenia Times