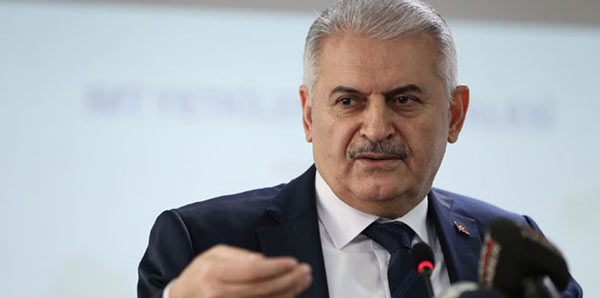 The adoption of a presidential system in Turkey will be a "key structural reform," Turkish Prime Minister Binali Yıldırım has argued, saying the system was needed for lasting stability, continued development, growth, strong government, national unity and brotherhood across the country.
"Turkey cannot resolve its problems unless it has a stable government. It needs a strong government to maintain its unity and brotherhood. Now the Justice and Development Party [AKP] government has secured this, but for political and economic stability to become permanent, a presidential system is needed," he said at meeting with a group of economy journalists late Oct. 15 in his office in Istanbul.
Asked whether the adoption of the presidential system could be regarded as a structural reform, he argued that it would be the biggest structural reform in the country.
Suggesting the presidential system would make a positive contribution to the Turkish economy, Yıldırım said: "Such announcements do not create speculation in the global arena. On the contrary, they create a positive perception, as this system brings about stability."
Yıldırım said Turkey and its economy offered a lot to investors despite the many problems it has faced in recent months.
"Various geographical problems have been occurring along Turkey's southern borders. In addition to this, Turkey faced and overcame a coup attempt. We have also been in a fight with terror. Despite these, Turkey is growing almost twice as much as the world average if we exclude China and India. Turkey offers more opportunities to investors than many others do," he said.
Yıldırım said it is not necessary to worry about the Turkish Lira/U.S. dollar index, as it goes down or up.
Unfortunately, there are differences between what really happens in Turkey and what is perceived abroad, as a propaganda campaign is being led against Turkey abroad, added Yıldırım.
"As members of the government, we have launched a campaign to reverse these perceptions about Turkey. Our ministers are visiting their counterparts abroad to tell the truth," he said.
"The fundamentals of our economy are quite robust … When the global finance crisis first erupted, we took a number of steps to keep our domestic economy lively. Many school, hospital, road, high speed train, airport and bridge projects enabled us to keep our economy in a good position. We then kept a total of 3,790 construction sites open, and investments continued," he added.
Meeting with global investors on Oct 27
The government will organize a road show with more than 20 leading global CEOs and investors from various sectors in Turkey on Oct. 27 to ease their concerns about the Turkish economy and provide information about opportunities and reforms.
"We will take new steps to attract more investment now," Yıldırım said, adding that Turkey needed more investment to grow and revive its financial markets.
"In this vein, we have now reduced bureaucratic procedures … We will launch a patent law. A comprehensive tax reform is also on the way," he said.
Yıldırım noted that they would closely follow whether new reforms have an impact and revise them if needed.
The government recently downgraded this year's forecast for Turkey's economy, which it now expects to grow at 3.2 percent in 2016, 4.4 percent in 2017 and 5 percent in 2018, Yıldırım said, noting that this was the "worst case" scenario.
"We are following a cautious road. I believe this is more realistic," he said, adding that Turkey would see better growth figures in the fourth quarter and would keep making investments, especially in infrastructure and transportation.
Yıldırım also said there were many opportunities in the defense, IT, petrochemical and logistic sectors.
Yıldırım, Medvedev to meet
Asked about an ongoing normalization process between Turkey and Russia, Yıldırım said the relations had yet to return to their pre-crisis levels but that both sides hoped to attain such level soon.
"We will meet Russian Prime Minister Dmitry Medvedev in the near future. The main aim of the meeting will be to take decisions to speed up economic ties and joint investment projects…They want a gradual transition in the visa regime. We are not pushing for more," he said.
Yıldırım also said there would be significant developments in ties with Britain after the country's exit from the European Union.
"They showed a clear and robust stance about Turkey following the July 15 coup attempt. They have clearly showed that they are with Turkey, which is of great value to us," he added.
Turkey 'accelerating Istanbul Finance Center project'
Earlier Oct. 15, Yıldırım attended a ceremony to break ground for new buildings for the Istanbul International Finance Center, Banking Regulation and Supervision Agency and Capital Markets Board in Istanbul.
Queried as to whether there was a slowdown in the regulatory framework for the project, he said: "By the time the buildings become ready, we will create the regulation framework. This framework will aim to create goodies to attract investors to Istanbul."
As global financial investors have seen several negative steps taken against them in some destinations, as exemplified by the U.S. Congress' recent bill that will allow the families of 9/11 victims to sue the government of Saudi Arabia despite U.S. President Barack Obama's concerns, they will seek new safe places to invest, according to Yıldırım.
"In this vein, we are speeding up the Istanbul Finance Center project," he said.
Yıldırım also added that Gulf countries had strong interest in Turkey.
"They come to Turkey for two reasons: Some of them want to make direct investment in the energy, telecommunication and petrochemical sectors or ports. For instance, they are interested in the Afşin-Elbistan power plant. Some of them seek partnership in Islamic finance. Furthermore, there are Gulf investors who want to actively participate in the newly founded Turkish Sovereign Wealth Fund. Our talks have continued in these areas," said Yıldırım./IBNA
Source: Hurriyet Daily News