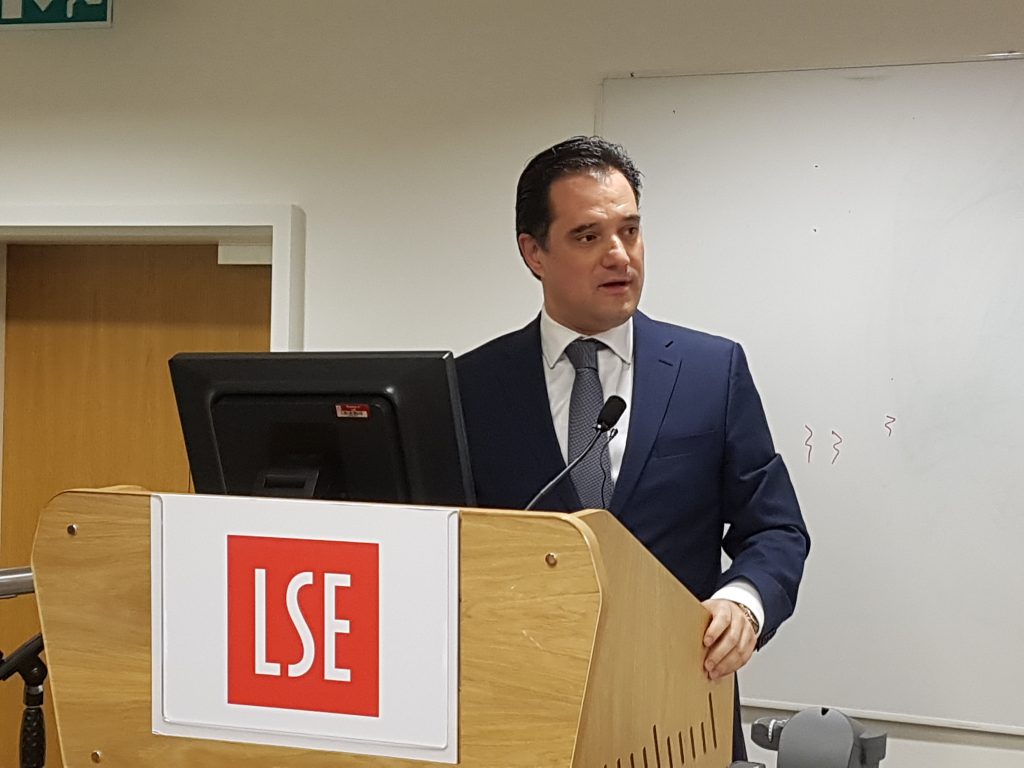 Adonis Georgiades, the Greek major opposition party's Vice-President, pulled no punches; "The majority of Greek people believed in the fairy tales," he told a London School of Economics audience referring to what he said were attempts by other parties' politicians to "hide behind the troika" and conceal the truth – that the crisis that befell the country in 2010 was a case of years of overspending and that Greece was in need of deep reforms: "As Margaret Thatcher once said, other people's money run out at some point."
The last time Mr Georgiades had attempted to address a university audience in London, in May 2014 when he was Health Minister, the whole thing got derailed. In a climate of heated debate about austerity and sovereignty, he was met with hostility by many London Greeks who were at the time protesting almost daily outside the Greek embassy.
Not one for bypassing a row, Mr Georgiades engaged in an almost three-hour long shouting match, with arguments being hurled out from each direction in a situation reflecting the turmoil of the time in the country.
Things could not have been more different this time, as far as the New Democracy senior official's visit was concerned. An almost entirely positively predisposed audience listened to Adonis Georgiades arguing that after seven years of crisis and especially two years of a SYRIZA-led administration, Greece is finally looking in the mirror.
"The one good thing that Alexis Tsipras had done for the country is that he destroyed the myth of the Left", he said, referring to what he described as a situation where until recently  the left-wing ideas had "all the authority",  making Greece "the last communist country of Europe".
In terms of what happens next, Mr Georgiadis said that structural reforms must be implemented because the country needs them and not because the creditors demand them. "They are not the good boys in the story," he commented.
He predicted that the crucial second review of the country's third bailout programme implementation will be completed and a July default averted. As he sarcastically commented, "Tsipras is too much in love with his chair" to jeopardise his position by refusing to sign "anything" that the creditors will ask of him.
Then he repeated his call for immediate snap election. "If we reach July 2018 as we are, we are going to have an extension of the programme or a fourth bailout or drachma. If we get to three or four months before that time, the debate will be heavily focused on that and it will not be that easy for Kyriakos Mitsotakis to turn the country around fast," said the New Democracy Vice-President.
"I think he showed why people listen to him and love him," Alexandros, one of the many students in the audience who states his support of the New Democracy party, told IBNA.
Yiannis, a Greek professional living in the UK capital for almost two years, was somewhat more sombre. "I disagree with Adonis in so many things regarding his politics and his style. But I agree that we have to be realistic about what needs to be done. We need more reforms and less austerity and some for us need to change attitude. Who will do it? I don't know, I don't trust any of them any more. We need to reboot and start all over again, and we need to do it in a way that will prevent more people like me emigrating."/IBNA