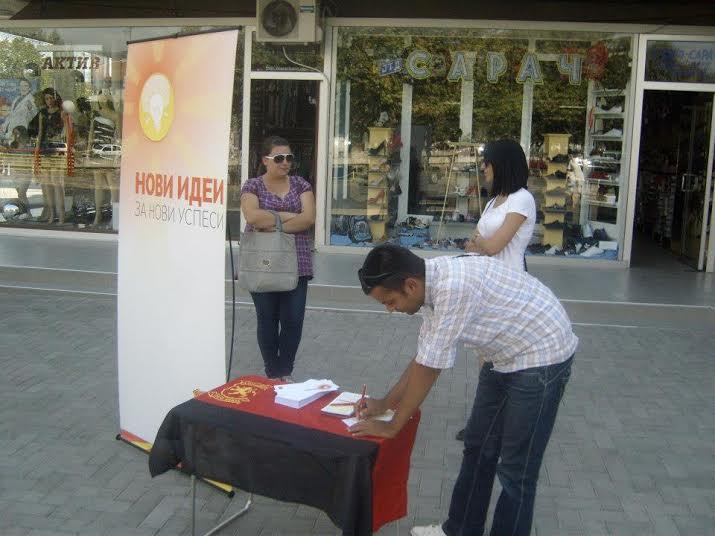 IBNA Special Report
Skopje, July 21, 2014/Independent Balkan News Agency
By Naser Pajaziti
In spite of the summer holidays, the country is filled with political developments. Besides the latest protests which are expected to continue every weekend, on the other hand, political parties have started their intensive activities.
This is the case with the biggest Macedonian party in power of prime minister Nikola Gruevski, VMRO-DPMNE. This party has launched a campaign with the motto "The country needs us, let us join together". This campaign aims to register new party members and control the party's voters.
"This is a campaign which aims at motivating those people who want to be involved as members of our party. This way, we're engaging new members and professional people to show that we're an open party", said the spokesman of this party, Aleksandar Bicikliski.
According to the last figures, VMRO-DPMNE has counted more than 150 thousand members, which is one of the highest numbers of membership of a party in the country.
A fall has been seen in the membership of the biggest opposition party LSDM (Macedonian Social Democratic League), which now counts 75 thousand members. In 2005, this party counted over 120 thousand registered members. LSDM has also launched an intensive campaign to register new members.
A campaign to recruit new members has also been seen among Albanian political parties. This battle also continues in the opposition camp. Such challenge has been undertaken by Ziadin Sela, current mayor of Struga, who has started a campaign for the reformation of the biggest Albanian opposition party PDSH (Albanian Democratic Party), led by Menduh Thaci. Sela says that he represents the true members of this party and demands Thaci's resignation and the resignation of the party's steering committee following the defeat in the recent elections. He has started a campaign on field to attract as many supporters as possible.
"With this campaign, we aim to engage the membership of PDSH, which has abandoned politics in the past few years, due to the consecutive defeats conceded in the elections by the current leadership. The defeat in the recent election by PDSH was a clear signal that there must be changes and we have started this campaign", says Ziadin Sela for IBNA. But, sources from PDSH say that Sela has been expelled from the party's leadership and that he no longer represents this party.
Citizens are divided as far as their membership in political parties is concerned. Sejnure Alimi, civil servant, says that she's member of a party, but she's obliged to do this because she was employed thanks to a political party. "I'm a party member, because I was employed through the party. Now I can say that I'm obliged to be member of that party, because that party has helped me. I'm not dedicated in this aspect, but I must do this", says Sejnure Alimi for IBNA.
Dragan S., a student, says for IBNA that he has never been a party member and that he will never be. "I don't intend to become a member of any party, because political parties only care about their interests and as you can see, they forget about the people. I don't want to legitimize political clans who benefit at the detriment of the people. In the future, I would become member of a party which would think and work for the people", says Dragan S.
In FYR Macedonia, the shifts of people from one party to another are a known phenomenon. Political parties accept this, underlining that those forces which are in power, lure people in for purposes of gain.
During the political pluralism in the country, there have been many political parties who have become extinct. VMRO-People, United Party for Macedonia, Democratic Alternative, New Democracy are some of the parties which had many voters in the past and today, they seem to be insignificant in the political arena. /ibna/