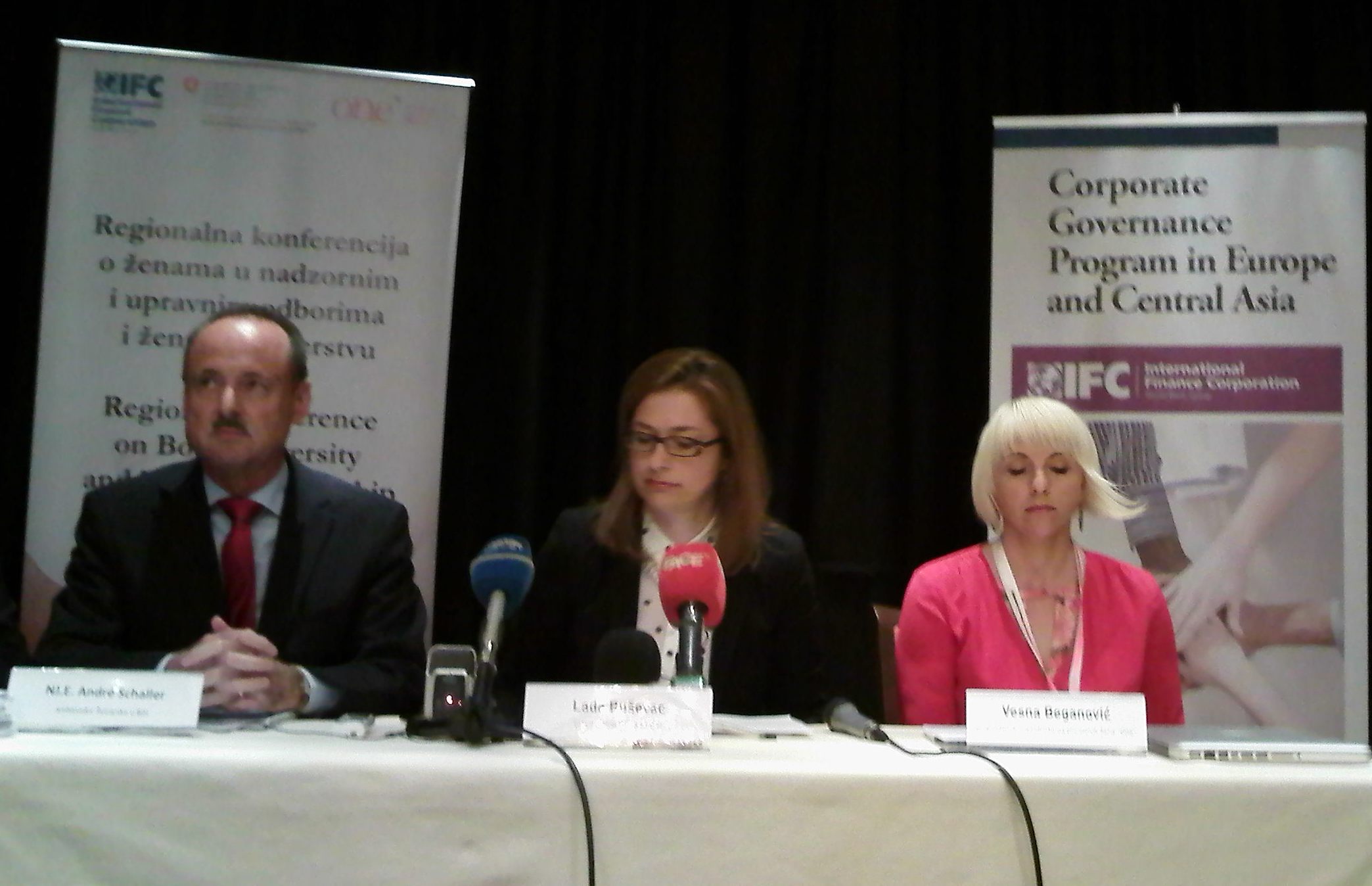 By Nevena Šarenac – Sarajevo
A regional conference on women in supervisory and management boards and women's leadership was held in Sarajevo yesterday. It was organized by the International Financial Corporation (IFC), member of the World Bank Group, and in cooperation with the Association of Women Entrepreneurs "One" and with the support of the Swiss State Secretariat for Economic Affairs (SECO).
At the conference, a report on the representation of women in supervisory and management boards in BiH, Macedonia and Serbia was held.
The Ambassador of Switzerland to BiH André Schaller said that his country supports the conference on women leaders, because they have an active role in the future prosperity of the region.
He said that the very high and active participation of women is one of the key things in the economic success of Switzerland.
"Currently, more than 61 percent of women are employed in the economic sector in Switzerland", added Ambassador Schaller.
He expressed confidence that the leadership qualities of women should not be focused and limited to their families, but rather that women have to be in all positions in companies.
The issue of women is an issue of equality and justice, and the Head of the Office of IFC to BiH Lada Buševac explained that in the corporate sense that women should and must have equal rights to 'enter' the labor market and the rights and opportunities to grow and become members of senior management.
She pointed to a number of studies that showed that there is a positive correlation between the composition of management and supervisory boards if they contain equal numbers of women and men with the right qualifications.
Buševac thinks that it is necessary to change the dynamics and reflect on the ways and models of decision-making in every day life.
Statistics of a global analysis shows that in 51 percent of households, men and women contribute to the household budget, while in 27 percent of cases women support their families, and that in 60 percent of households women make the primary decisions regarding household matters.
"The laws in BiH are not discriminatory, but it is a question of the (lack of) implementation of these laws that lead to discrimination'', concluded Beganović.
The Vice-President of the Association of Women Entrepreneurs 'One' Vesna Beganović emphasized that the latest research shows that BiH has the youngest generation of women entrepreneurs in the region, which means that a large number of young women decide to become entrepreneurs.
"The aim of the Association of Women Entrepreneurs in BiH 'One' is strengthening women's entrepreneurship by providing opportunities for connecting entrepreneurs, providing expert advice on starting and developing businesses, and information on financial and educational opportunities'', said Vesna Beganović.