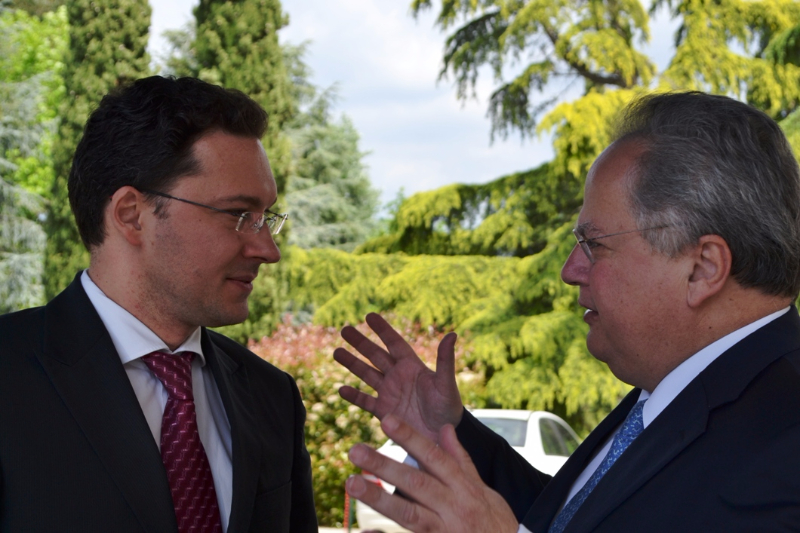 Athens, June 27, 2016/Independent Balkan News Agency
By Spiros Sideris
Series of telephone contacts had the Greek Foreign minister, Nikos Kotzias, with his counterparts in Cyprus, Bulgaria and Italy, a few hours before the luncheon to be held in Warsaw on Monday, June 27, at the initiative of the Polish Foreign minister Witold Waszczykowski, to discuss the EU's future after the Brexit.
Nikos Kotzias, in a telephone conversation with the Foreign Ministers of Cyprus, Ioannis Kasoulides and Bulgaria, Daniel Mitov, discussed the situation in Europe, following the outcome of the British referendum, exchanging views and expressing his concerns for the next day in the EU.
In the talks was confirmed the convergence of views on many issues in Europe and the EU's future between the Greek Minister and his counterparts from Cyprus and Bulgaria, since the problems that will arise will touch all three countries.
According to information of IBNA, until late at night had been decided the participation of Daniel Mitov meeting in Warsaw.
Mr Kotzias spoke also extensively with the Italian Foreign minister, Paolo Gentiloni, who briefed him on the outcome of Saturday's meeting in Berlin among the Foreign Ministers of the six founding countries of the European Economic Community.
For his part, Mr Kotzias explained to his Italian counterpart the positions the Greek Government on the latest developments after the British referendum and exchanged views with Mr Gentiloni ahead of his tomorrow participation in a working lunch organized in Warsaw on the initiative of the Polish Foreign Minister.
Once the outcome of the British referendum became known the Greek FM had made the following statement:
"The result of the British referendum confirmed our insistence on the need for a democratic binding discussion on the future of the European Union, to enhance social functioning and democratisation of structures so that it operates in serving the people of Europe and to be appealing to Member-State societies.
Generally, based on the developments of recent years and particularly in relation to the refugee issue, we express our concern about the increasing fragmentation trends of the EU and emphasize the need to combat nationalism and extreme behaviours. Priority of European leaders must be the abandonment of punitive logic and political trenching and the cultivation of a culture of democratic dialogue and consensus".
Reportedly, in the Greek Foreign Ministry they are process plans, initiatives and proposals for the next day of the EU.