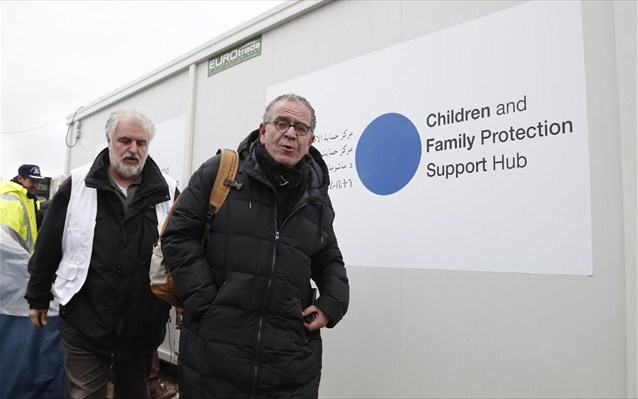 Athens, March 16, 2016/Independent Balkan News Agency
By Spiros Sideris
The need to isolate those who propagate that open borders and invite refugees to "irresponsible and irrational acts like the one that happened yesterday (Tuesday)", stressed the Minister of Immigration Policy Giannis Mouzalas, who accompanied Immigration Commissioner Dimitris Avramopoulos in Idomeni.
I. Mouzalas was referring to the day before yesterday attempt of a group of refugees to cross the Greek-FYROM border from an unattended point a few kilometers from the neutral zone.
"We have to convince these people to leave", G. Mouzalas said alluding to the refugees who insist on remaining in the makeshift camp of Idomeni. "We can not banish them with riot police, but we are preparing so that slowly, I would say in the next 20 days, this camp will exists as a very small place", he added.
He said that great efforts are being made to complete the new admission places and for the refugees to understand that there is no way for the border to open.
"We will not allow the tragedy to spread, we intervene continuously and we will succeed", he said.
D. Avramopoulos: The situation is tragic and intolerable
For his part, D. Avramopoulos described the situation in the region as tragic and unacceptable.
"Here is where the principles and values ​​of the civilized world are tested daily and what we saw today, people living under tragic conditions, should stop immediately. Unfortunately, they are ruthlessly exploited by traffickers' circuits which misinform them", he said.
According to D. Avramopoulos, "Europe stands with respect and dignity towards refugees but conditions in Idomeni do not show this".
"This has to stop and become the last page of a drama of these people who under difficult conditions, they chose the dangerous road to Europe", the European commissioner said.
At the same time, he called on all European countries to open their doors and keep "what we've decided together so that relocation starts immediately".
He also added that it must "be made clear the notion that a refugee entitled to asylum is one thing, and an irregular migrant is another, who should know that he will be returned to his country of origin".
"Closed borders, fences, are outside the principles, politics and philosophy of Europe and all must all show their human and civilized face", he added, noting that Europe stands by Greece, which receives disproportionate to its size, pressure.