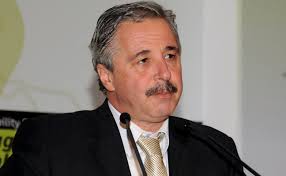 Athens, December 10, 2014 / Independent Balkan News Agency
By Spiros Sideris
The acceleration of the privatisation process of DESFA with the approval of its acquisition by SOCAR from the relevant services of the European Commission, was the object of the meeting of Environment, Energy and Climate Change Minister Giannis Maniatis with Deputy European Commission and responsible for Energy Maroš Šefčovič, on the sidelines of the Energy Council EU, held on December 8-9 in Brussels.
The Greek minister stressed that in the meeting with the Vice President of the Committee they discussed the approval process of the acquisition of DESFA by SOCAR from the relevant Commission services, in particular by the Directorate General for Competition.
The Commission on November 5 had asked for a three-month period, in order to further investigate the compliance of the new ownership of DESFA with European competition rules.
Maniatis underlined the positive cooperation of the Greek authorities with the relevant Commission services and stressed that the privatisation process DESFA takes place in the context of strengthening energy security in Europe.
For this reason, the Greek Minister asked the Deputy European Commission to contribute to the acceleration of the procedure.
In addition, G.Maniatis and his Cypriot counterpart, G.Lakkotrypis discussed with Šefčovič on the subject of natural gas reserves in the Eastern Mediterranean, underlining the importance of the gas pipeline East-Med.
The two ministers stressed the importance of the gas corridor Israel-Cyprus-Crete-mainland Greece-Italy (East-Med Corridor) as a critical project for the EU's energy security.
In addition, the two ministers stressed that the pipeline East-Med Corridor, which has a capacity equivalent to the Southern Corridor, namely at 8-12 bcm, will be in the future another alternative source and route for European countries, just when the search of such routes has become a strategic priority in the EU.
As Maniatis stressed, the East-Med also has the advantage of passing entirely through Member States of the EU, and therefore coincides perfectly with the interests and aspirations of the EU.
He noted that preliminary studies indicate that the pipeline is technically feasible and economically viable.
The Greek minister said that currently, the East-Med is in the final stages for the selection of the implementation of the feasibility study and vice Šefčovič pledged to study ways to support the project from the part of the Commission.
Finally, in a joint statement, Yannis Maniatis, with his counterparts from Bulgaria Vasil Stonov and Romania Razvan Nikolescu, expressed their willingness to implement the first part (Greece-Bulgaria) of the pipeline "Vertical Corridor", which will could link the Aegean with the Baltic countries (Greece-Bulgaria-Romania via Hungary or Slovakia).
According to Maniatis, the "Vertical Corridor" could be a new source of supply for Europe.