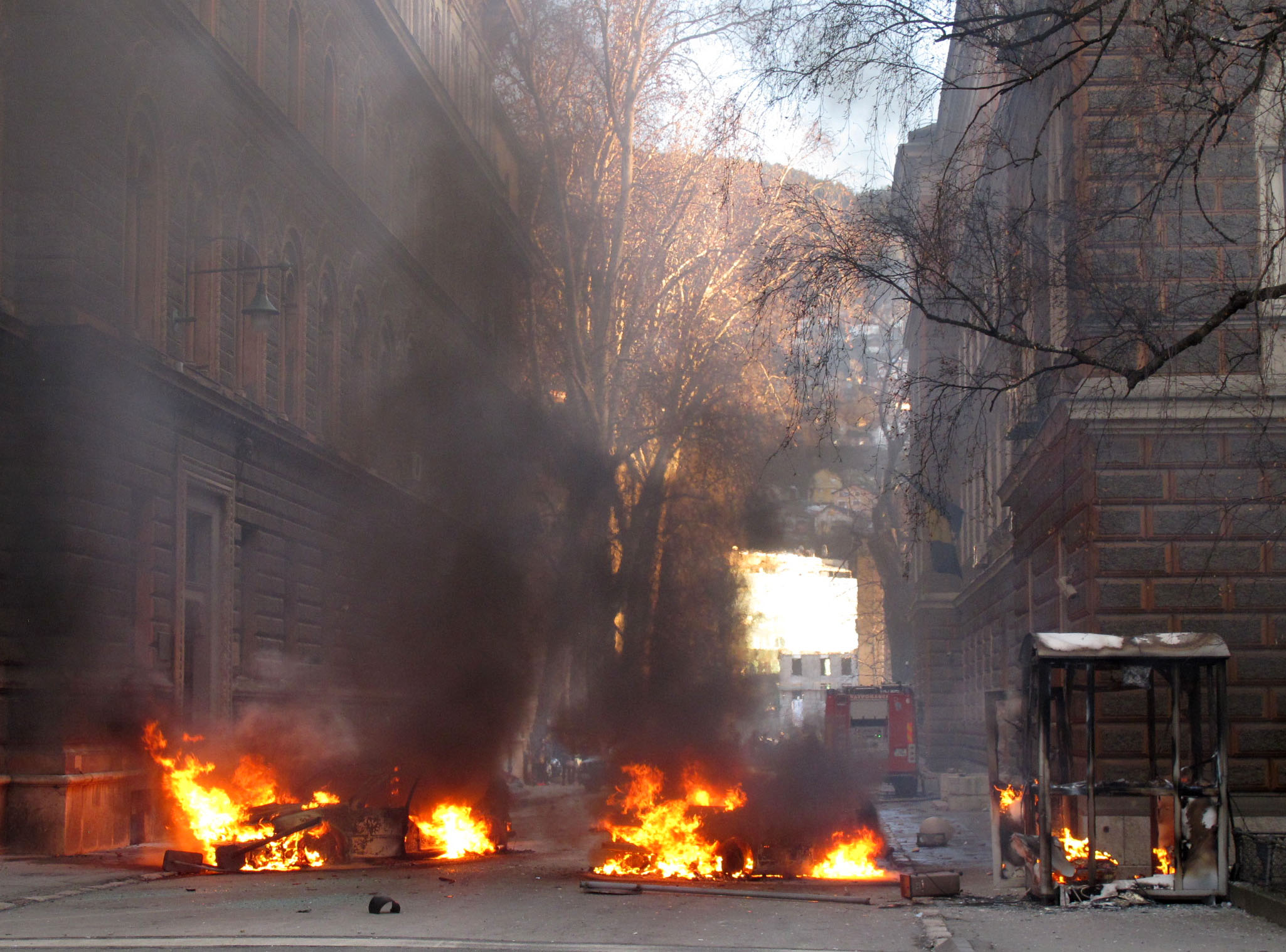 Sarajevo, August 13, 2015/ Independent Balkan News Agency
By Mladen Dragojlovic
After former director of State Investigation and Protection Agency BiH (SIPA), Goran Zubac, was removed from his position because he didn't answer the call to send Special police forces during violent demonstrations in February last year, when demonstrators set the fire in BiH Presidency building in Sarajevo, state Prosecution office continued to work on sentencing everybody involved in this case.
Two Sarajevo citizens, Salem Hatibovic and Nihad Trnka, are accused on the BiH Court because they directly set fire in the official building. Prosecutor accuses them of committing the crime act of terrorism. In official document, Prosecutor described that Hatibovic, February 7 last year, came with his car in front of the building and took out the bottles with "Molotov cocktails". He gave the bottles to Trnka and other demonstrators, who threw them on official police cars and on Presidency building, in order to set them on fire and destroy them.
Hatibovic threw a Molotov cocktail and set fire on the police guard room in front of Presidency building and then went on the side where the official entrance of the building is. There, he broke windows on the part of the building where BiH Archive is, and then took a bunch of paper, set them on fire and threw it in the building through the window. He also set a fire on the other side of building, where using a firelighter set fire to the curtains in room through the open window. Then he joined Trnka and other demonstrators to ban the approach to the building in order to prevent firefighters to come near it.
As it was said in the charge, the fire caused large material damage on the building, estimated at about 400,000 BAM (200,000 Euro). Also, fire destroyed part of archived documents which where invaluable and very important for the cultural and historical heritage of BiH.
Trnka and Hatibovic are also accused that, by setting the fire, they endangered the lives of many people in the building.
"In order to identify and process on the court all persons involved in this case, investigation in this case will continued. In the case of Hatibovic and Trnka, prosecutors will prove their guilt on the court with 35 witnesses, five experts from various fields and more than 50 pages of written material", said the BiH Prosecution office in the announcement.