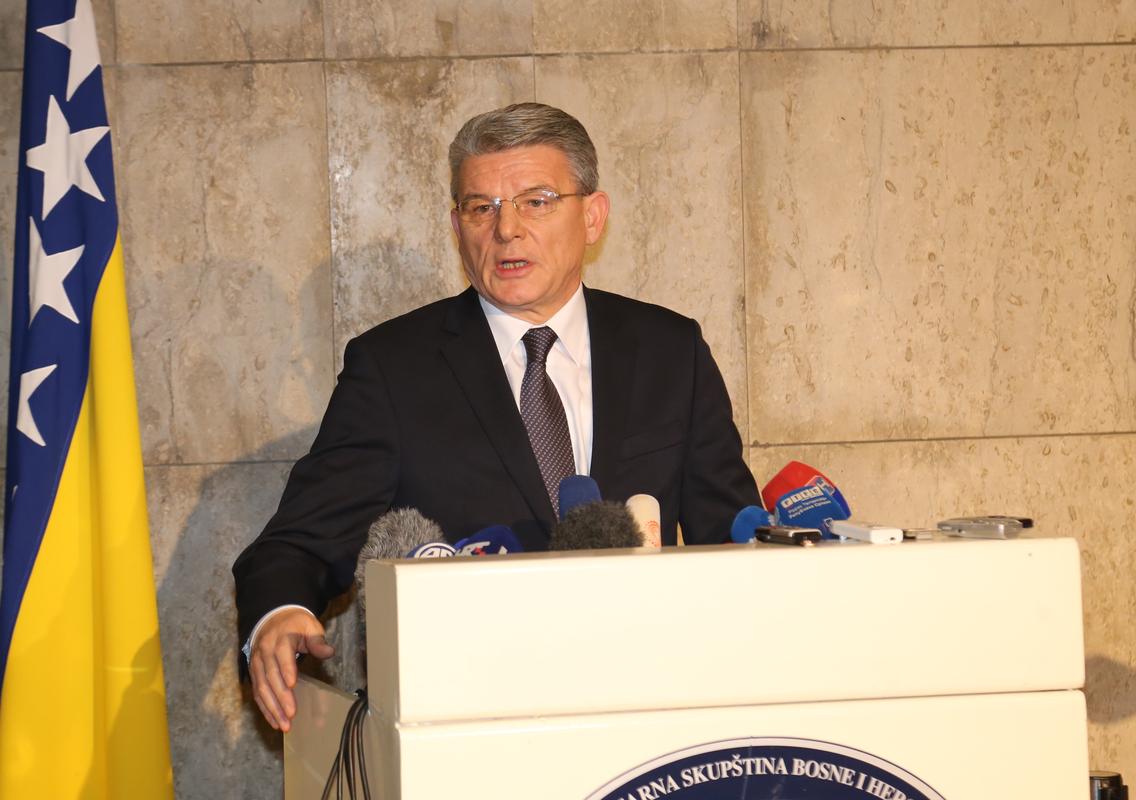 Banja Luka, January 15, 2015/ Independent Balkan News Agency
By Mladen Dragojlovic
Since Federation BiH vice president, Mirsad Kebo, handed over documents to the BiH Prosecutor's office about war crimes against Serbs, the political dispute between various parties in BiH Parliament is progressively increasing.
Recently, Kebo came in the public focus because he was the first of Bosniak official who opened the issue of war crimes in the territory of the village Vozuca, where mujahideen warriors killed unknown number of Serb prisoners of war. In at least one case, asserts Kebo, high officials of Bosniak police and Army of Republic BiH witnessed the beheading of a Serb prisoner. One of them, Sakib Mahmuljin, is a retired army general and the second, Sefik Dzaferovic (photo), is speaker of BiH House of representatives in BiH Parliament. His present position is the biggest stumbling block in this case. Because of Kebo allegations, MPs of Alliance of Independent Social Democrats (SNSD) and Alliance for Better Future BiH (SBB BiH) submitted the request for Dzaferovic removal from his position as Speaker.
The situation escalated on Thursday, when Parliament majority refused to put this request on the session agenda. As a sign of protest, SNSD and SBB BiH delegates left the session. SNSD delegate, Stasa Kosarac, said to media that "BiH failed the test of war crimes" because this case clearly show that judicial institutions in BiH for war crimes only examine cases where these actions have been committed by Serbs and don't want to process cases of war crimes against Serbs.
It is interesting that this question created a dispute between parties from Republic of Srpska, SNSD and Serb Democratic party (SDS), which didn't support the SNSD request. What's interesting is that SDS, after the war, was under the biggest pressure of all institutions as a party which was on power in RS during the war and was permanently accused that its members committed the biggest war crimes.
SDS party war leader, Radovan Karadzic, is in Hague Tribunal, on the trial for war crimes. Dzaferovic's deputy in BiH Parliament and SDS leader, Mladen Bosic, said on the session on Thursday that "his party in the past was a victim of political harassment and doesn't want the same thing happening to others".
"We think that Parliament is not a place where someone's guilt should be found. The place for that is the court", said Bosic.
Analysts see this situation as a further struggle between SNSD, which is the ruling party in Republic of Srpska, and SDS, which is part of ruling coalition on state level, for political predominance and retention of the status quo.
Dzaferovic told the media that Kebo's accusations are a forgery and that he is proud of everything he did during the war.
"If the court prove my guilt for anything, I will decide to withdraw from the position. But, there is no need for that, because all allegations against me have been falsified", said Dzaferovic.