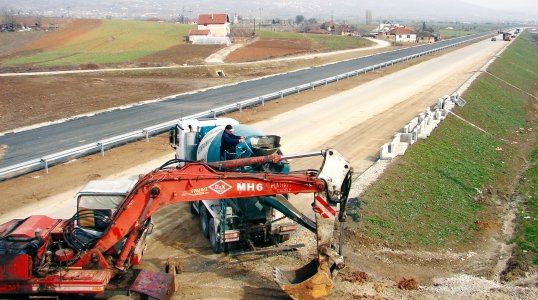 Skopje, March 11, 2014/Independent Balkan News Agency
By Naser Pajaziti
Largest opposition party Social Democratic Macedonian League (LDSM) has published documents, which according to this party, prove the theft of 3,5 million Euros from European funds which are destined for the construction of the highway connecting Demir Kapi to Smokvica, in the eastern part of the country.
Representative of LSDM, Petre Shigelov has shown several documents which have been published by launching accusations for corruption and organized crime in the construction of this part of the highway.
According to him, through "Aktor" construction company, Greek nationals have illegally withdrawn cash which was allocated for the construction of the highway.
According to LSDM, these documents indicate that in less than a year, 96 Greek nationals have entered the country by withdrawing money from this company and that a part of these citizens bear the same second name.
"The information on the transactions carried out in Macedonia indicates that 9 people whose second name is Konstandinos, have withdrawn significant amounts of money, 19 million denars or 313 thousand Euros. Also, 8 people with the surname Dimitrios have withdrawn 17.5 million denars or 282 thousand Euros in cash. Employees of the Economic Bank in the city of Negotina, where the withdrawal of cash has taken place, have signaled this and the Financial Intelligence Unit has the obligation to investigate this case", said the spokesman of LSDM, Petre Shilegov.
According to him, the money has been withdrawn in the form of honoraries or work contracts that the Greek nationals had with 'Aktor' company, but LSDM underlines that all the procedures were illegal.
VMRO-DPMNE has reacted on these accusations, stressing that Macedonian opposition party, LSDM is in panic and worried due to the great infrastructural projects.
"This project enjoys full transparency. We have coordinated our activities with representatives of the European Commission. LSDM must ask the company that has won the tender how it manages the funds. This is a tender which has been audited by important European institutions", declared Elena Kuzmanovska from VMRO-DPMNE. She has demanded for this case to be reported to anti-corruption institutions and to the courts.
Macedonian opposition has warned that in the coming days it will publish other details in relation to its suspicions for abuses and organized crime in the case of this tender.
Macedonian opposition says that the Financial Intelligence Unit has been acquainted with the case in question, but "it has concealed it upon an order from above".
Asked by IBNA over these denouncements, the European Union Office has not issued any details, demanding for us to address to investigative institutions in the country.
Sources from FIU claim that they have been acquainted with the case in question and this institution will launch an inquiry following the requests that have been made.
This institution has not offered other details over the file of "Aktor" construction company and its transactions.
The construction of the highway linking Demir Kapi to Smokvica has started in 2012. This highway is 28,2 kilometers long, while the entire project has a cost of 270 million Euros. These funds were allocated by European Bank for Reconstruction and Development, IPA Funds and other funds of the European Commission. /ibna/