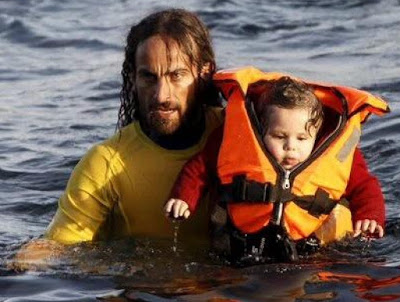 Athens, January 8, 2016/Independent Balkan News Agency
By Olga Mavrou
The government decided to put an end to unauthorised and false "volunteer work" in the islands where refugees are disembarking every day, after complaints for stealing or annoying interfering, smuggling and exploitation. From now on police (and Frontex) will check on individuals and NGOs (non Governmental Organizations) so that only members of accredited organizations are allowed in the spot.
The reason is that some individuals act on their own, sometimes causing more trouble than relief, others are pretending to be volunteers (or pretend to be refugees themselves) and  steal valuables from refugees, others are smuggling  the boats that are left behind and sell them etc.
Those incidents do not concern the majority of the volunteers who do their best to help the refugees, but since there are incidents of misbehaviour, the presence of policemen in the areas where the refugees disembark is considered necessary.
Another reason for the presence of the state, is that many journalist criticize the absence of it. It seems that the government wants to prove that the state is handling the situation with the help of volunteers, and not vice versa.