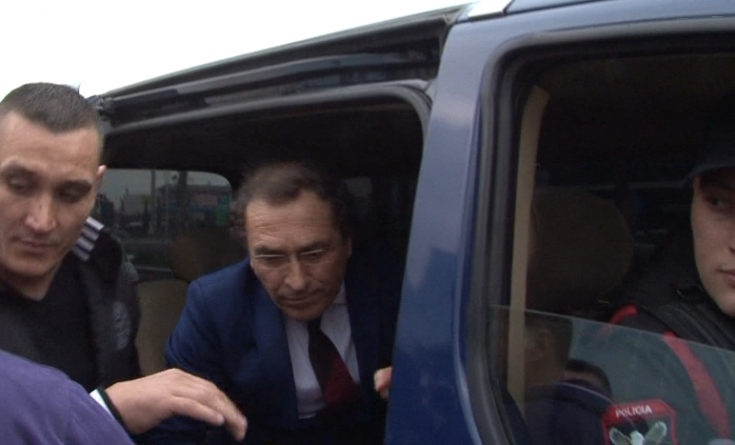 Tirana, 25 April 2016/Independent Balkan News Agency
By Edison Kurani
President of the Association for the Protection of Traders and Market of Albania, Nikollaq Neranxi, has been arrested by the State Police in Tirana and was held in detention for six hours during the weekend, after being accused of criminal offenses which receive up three years in prison.
Former Socialist Movement for Integration MP, Neranxi was taken in at the time when a fair was taking place in the premises of his company in the road segment linking Tirana to Durres.
Everything occurred out of an ordinary cause. Many people had come to visit the fair and had temporarily parked in the secondary street just outside the premises. Several traffic wardens appeared in order to issue fines. Neranxi got irritated and asked the wardens to stop these measures, which he considered to be absurd. Some others considered this "police revenge" an attempt to damage the image of his business.
Former MP and prominent businessman told IBNA that everything happened while he was in his business property and hosting a fair which had been prepared for months. "State Police, which is paid with my taxes, came to arrest me. I have committed no crime and they had no reason to do this. I call for prompt measures to be taken against this insanity!", Neranxi appeals. He says that he was released from detention after six hours.
The former MP has considered his arrest unlawful and a violation of his rights.
"After being unfairly arrested for six hours by police, I was released. What happened here was ugly", Neranxi said.
Authorities: He resisted police
Officially, State Police told IBNA that Neranxi has resisted and threatened police, by disobeying their order. Authorities added that they have sent the materials to the District Prosecution of Tirana for the 57 year old Neranxi, "as around 14:15, in the premises of his company situated in the road segment Durres-Tirana, has resisted and threatened police, disobeying their order".
Police mention two articles of the Criminal Code which according to them, Neranxi has violated. Combined together, they receive a sentence of up to three years in prison.
***
The public opinion is different to that of police. Analyst Ilir Kulla says that "I visited a very nice food fair with many companies present in it, including foreign ones". Kulla says that "it was a very warm and positive atmosphere which showed a different Albania". Kulla adds that when he learned about Neranxi ending up arrested, he was surprised. Meanwhile he adds: "I spent an hour today to convince a foreign investor, Antonio Pavone, who was present in this fair, to move his activity to Albania. What must have they thought when they saw the host of this activity, a prominent entrepreneur and former MP being taken by police in that manner?", Kulla says.
Dritan Ylli, General Director of the National Work Inspectorate and member of SMI leading committee, criticizes police measures against Neranxi. he says that this was "an incident that could have been clarified without the need of taking in one of the biggest employers in Albania".
Meanwhile, Ylli also criticizes police incompetence to identify the people who robbed Neranxi's business. "More than a year ago, one of the most important taxpayers in our country, Neranxi company was robbed in the middle of the day and the authors were never identified".
Meanwhile, columnist Dritan Kaba, who is also a parliamentary official, told IBNA that Neranxi's arrest is a bad omen and a shameful act. "Earlier, police issued a warrant against an honest entrepreneur and a fighter for economic freedoms against those who issue fines or who threaten professors. This is meaningless. Authorities make it seem as if Neranxi had a gun in his hand and was fighting. They could have just asked him a clarification and he would have appeared, because he has millions of investments in this country and there's no way he could leave them. To issue an arrest warrant against a working man who is one of those quiet heroes and who employs hundreds of people, is really a bad omen".
Kaba raises a question: "How can foreign investors come when police issue arrest warrants against an Albanian entrepreneurs even if it's the case of a traffic fine? What if this entrepreneur is discouraged and leaves, what if he abandons his business and shuts down his activity? Who will pay the workers? What about the workers' contributions? According to me, such act is a disgrace".
***
Nikollaq Neranxi filed a few months back a complaint addressed to the Constitutional Court relating to the hefty fines that Rama's government announced in parliament. Almost all of these fines were cancelled as they were considered to be anti-constitutional. Businesses praised Neranxi's incentive and said that he saved not only them, but also a possible confrontation between businesses and tax authorities, between merchants and the state, investors with the government.
Former PM of the country, Sali Berisha issues a strong reaction. He says that "Neranxi's arrest is primitive revenge of PM Edi Rama against Neranxi's stances in defending business and in rejecting the law against businesses". According to Berisha, "this is an ugly Stalinist act against a strong advocate of the business rights of Albanian entrepreneurs". /balkaneu.com/
More: The government fines abrogated by the Constitutional Court