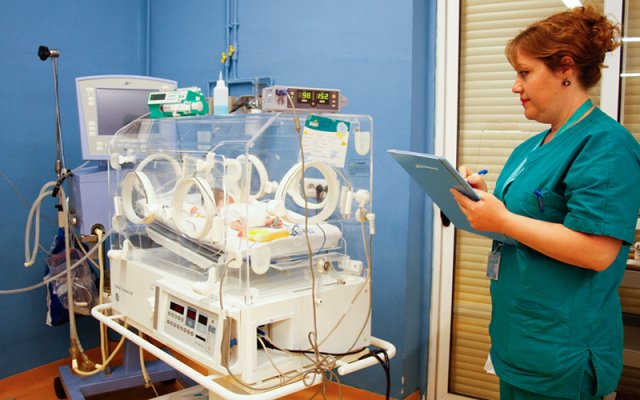 Tirana, 5 April 2016/Independent Balkan News Agency
By Edison Kurani
One of the most worrying phenomena in Albania is the abandoning of newly born babies. This happens quite often and official statistics suggest 10 cases a month, figures which for NGOs are higher.
The causes of this phenomenon vary. They mainly happen due to the secret relationships, poverty and the fact that the child is not wanted by one of the parents. In other cases, mothers refuse to keep their child due to the young age in which they have brought them to life.
But this abandonment causes a chain reaction which causes strong traumas for the children who after they are born,  face the absence of parents.
Where are children abandoned
The choices that parents make to abandon their children are different. They choose to leave them in rubbish bins, on the side of the road, at the doors of a civil or religious institution and also in maternity hospitals.
But who are those parents that have such a strong heart to throw or abandon a child?
Police and prosecution files indicate that the majority of babes are abandoned by mothers who do not have a stable relationship, cohabitation, engagement or marriage.
Another part belongs to the Roma and Egyptian community.
However, among the numerous cases of abandoned children, there are also personal and family specifics. Females dominate among abandoned children.
A baby girl was found in a rubbish bin
Last year there was a very painful case, that of a newly born baby girl who was found in a rubbish bin in Tirana. The baby was found by several by passers  who heard the cries.
The baby girl was sent to the state maternity hospital "Koço Gliozheni". Doctors said that her condition was critical.
Neonatologist Niketa Kolici said that the child had no signs of life until the moment she arrived at the hospital. "It is not known where the birth has taken place. The child was reanimated since the moment it arrived and her condition is critical. She reacted very late to the reanimation and currently, she has started to show signs of life, but her state is serious", said the doctor who cared about the abandoned baby.
According to doctors, the baby stayed several hours in the rubbish bin, wrapped in a blanket, a few hours after coming to life, in a birth which is not known where it took place.
A police inquest was launched on this case, but such cases are constant in Tirana and other districts of the country and the parents who abandon them are rarely discovered.
The sad story of a difficult decision
Some of the cases where mothers abandon their children are very delicate. Their child may have had physical problems since birth and they may have faced with a very difficult decision: Accept a child which is not known how long he will live and if he lives, he may need specific care, or abandon him in order for the state to take him.
Maternity hospital doctors admit that this happens in the majority of cases when children with physical deformations are born.
"The cradle of angels"
State authorities have statistics about abandoned children, They say that since 1995 more than 700 newly born children in Albania have been abandoned on the road or maternity hospitals by their mothers. Many people say that this figure may be higher.
"The Cradle of Angels" is the ward that cares about newly born babies at "Queen Geraldine" maternity hospital in Tirana.
Claudia Nejiszewski is the founder of the special ward "The Cradle of Angels". She has been working for 20 years here and recalls the most dramatic moments of abandoned children.
"There have been brutal cases where children have been abandoned or been thrown by their mothers in rubbish bins. The last case was in December with the baby found in the rubbish bin", Jeniszewski says.
For all mothers who do not know who to address or who are afraid, Jeniszewski has a message: "If the girl is pregnant and she is keeping her pregnancy a secret, then this ("The Cradle of Angels") is the right place. Please do not abandon your babies on the street. Our ward is always open at Mother Geraldine maternity hospital".
Social worker, Mira Asllani says that mothers often abandon their children, they regret it and take them again. "If they want, mothers maintain contacts and there are cases when they take their babies to their homes again".
Dr. Blenard Nonaj, head of the maternity hospital "Queen Geraldine", says that abandoned children are cared for in this hospital for a while.
Once they're cared for in the first months of their life, the children are taken to orphanages where adoption procedures begin. "We have a service with doctors who deal with newly born babies, personnel and social workers who deal with the mother and these children. We have nothing to do with adoption. We only keep the children here and we care for them in order for them to be healthy", Dr. Nonaj says. /ibna/