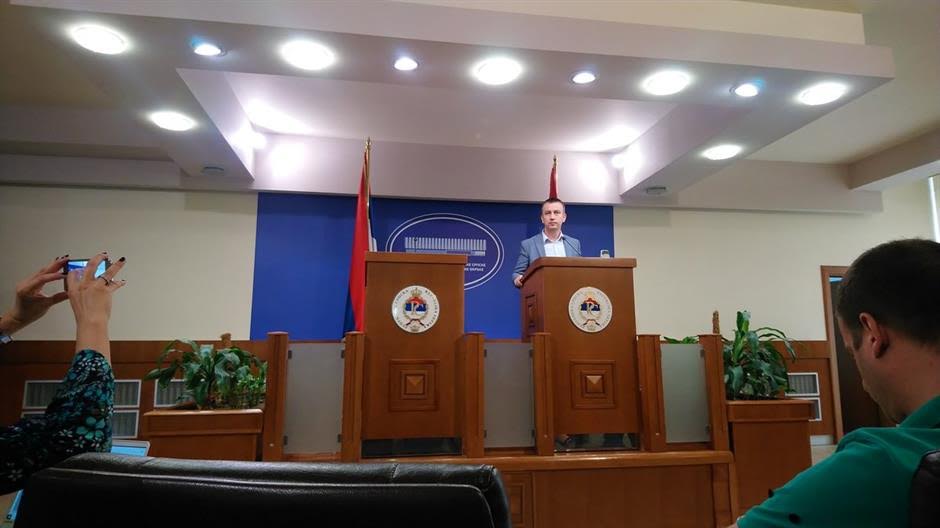 The Party of Democratic Progress MP in Republika Srpska's National Assembly, Adam Šukalo, stated on Tuesday that his address at the session on Monday would be the last due to threats against him by the RS Minister of Interior, Dragan Lukač. At the press conference, he called Lukač "dangerous to him, the environment and the RS's institutions."
The Monday incident in the RSNA occurred during the discussion about the Special Report of the Inquiry Board about the death of David Dragičević, a 21-year old Banja Luka citizen, who was found dead in March this year, after six days of investigative police search. The family declared he was brutally tortured, killed and his body was thrown in the small river Crkvena, in Banja Luka. The discussion was full of accusations which came to an end with the verbal conflict of Lukač and Šukalo.
"After Lukač threatened me from the rostrum, I told him 'let's go outside'. He then ran towards me with his bodyguards. I feel threatened but I'm not afraid of him", Šukalo said.
He accuses the Interior Ministry of obstructing the investigation into this case, claiming the NSRS was "used in order to cover the crime committed against this young man." Šukalo ended the press conference by saying that if anything happens to him and his family, the RS Interior Minister will be the one to blame.
In fact, the entire discussion on this very sensitive issue was full of controversies. First of all, the Inquiry Board was established on demand of the ruling parties' coalition with the head of the Board being Branislav Borenović, an opposition Party of Democratic Progress MP. After several public sessions, the Board, among other things, concluded that there is enough evidence that the death of the young man can be considered a murder demanding that the Prosecution Office reaches an appropriate decision. This conclusion triggered most of the discussions since the ruling party MPs think that only the prosecutor(s) is qualified to decide on this case, whereas the members of the Board -as many of ruling coalition MPs believe- should determine whether the institutions do their job properly.
Oddly enough, although it was the ruling coalition that insisted on establishing the Board, now they do not want to accept the Board's conclusions as relevant. Members of the Board, mostly from opposition parties, stated that they did their job by the book and in accordance with the highest professional standards.
The Dragičević case received additional controversial connotation since, after three months of silence, the entity's Prosecution Office declared the case as a murder one and ordering an investigation.
Though the relevant decision was made a few days ago, it was kept secret, but nobody knows why. Davor Dragičević, the father of the young man who was killed, gathers with a few hundred citizens every day, demanding a faster "response" to this case. Many of them think that entity institutions are protecting the person who killed David….  / IBNA