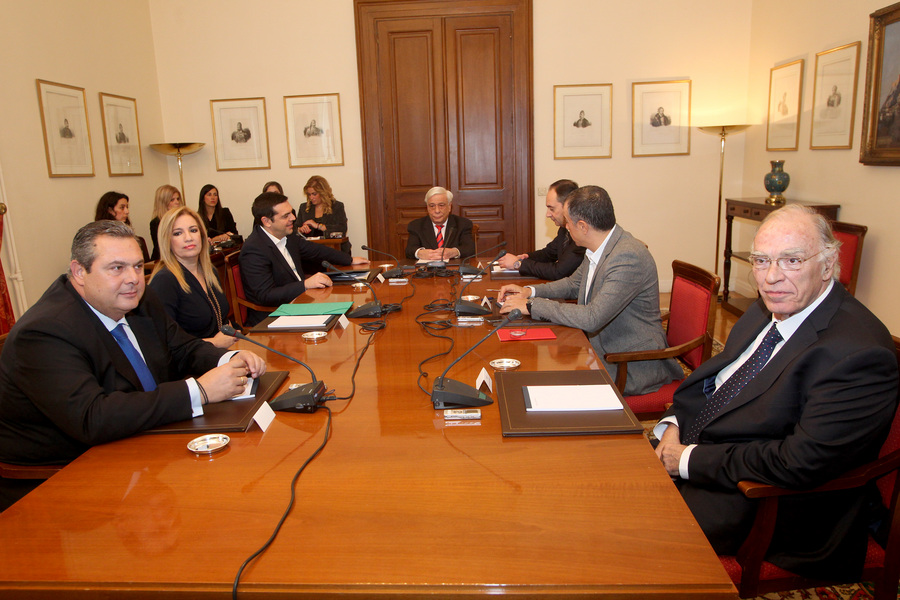 Athens, November 30, 2015/Independent Balkan News Agency
By Zacharias Petrou
Alexis Tsipras failed to secure the support of Greek opposition parties on Saturday for social security reform – including merging several pension funds into one and gradually cutting back supplementary pensions.
The premier met with the leaders of New Democracy, PASOK, Potami, ANEL and Enosi Kentrou in a council chaired by the President of the Republic, P. Pavlopoulos. The Communist Party (KKE) rejected the invitation and neo-Nazi Golden Dawn was not invited.
Tsipras called a meeting with opposition party leaders to seek a broader consensus when the reforms come before parliament but they rejected his call to create a joint committee to prepare proposals on pension reforms.
A joint statement said only that there should be debate when the bill is brought to parliament to ensure a viable pension system and avoid further cuts in benefits.
In a live address to the Greek people, A. Tsipras said the main opposition party, New Democracy, and all those that brought the country to its knees in previous years are proving now that they aren't responsible or serious enough to provide support in critical times.
The Greek Prime Minister was left isolated following the political party leaders summit in which it became evident that the only area in which he can hope for some consensus is an amendmend of the electoral law in future.
Meawhile, the government is feeling the pressure as difficult negotiations on prior actions with creditors continue, majority in parliament has been cut to just 153 of the 300-member House and the coalition's popularity appears to be waning.
A poll by Kapa Reseach presented in newspaper To Vima on Sunday puts the popularity of Syriza on 18.4% while New Democracy is at 14.9% with Golden Dawn on 5.6%, PASOK on 4.5%, KKE on 4.4% and Enosi Kentrou, Potami and ANEL all below the 3% threshold.
71.4 percent criticize the Syriza-ANEL coalition government and more than 65% say the government has performed negatively on all policy areas and initiatives it has taken. Meanwhile, 37.8% say they would prefer an all-party government if Syriza-ANEL lose their majority in parliament.