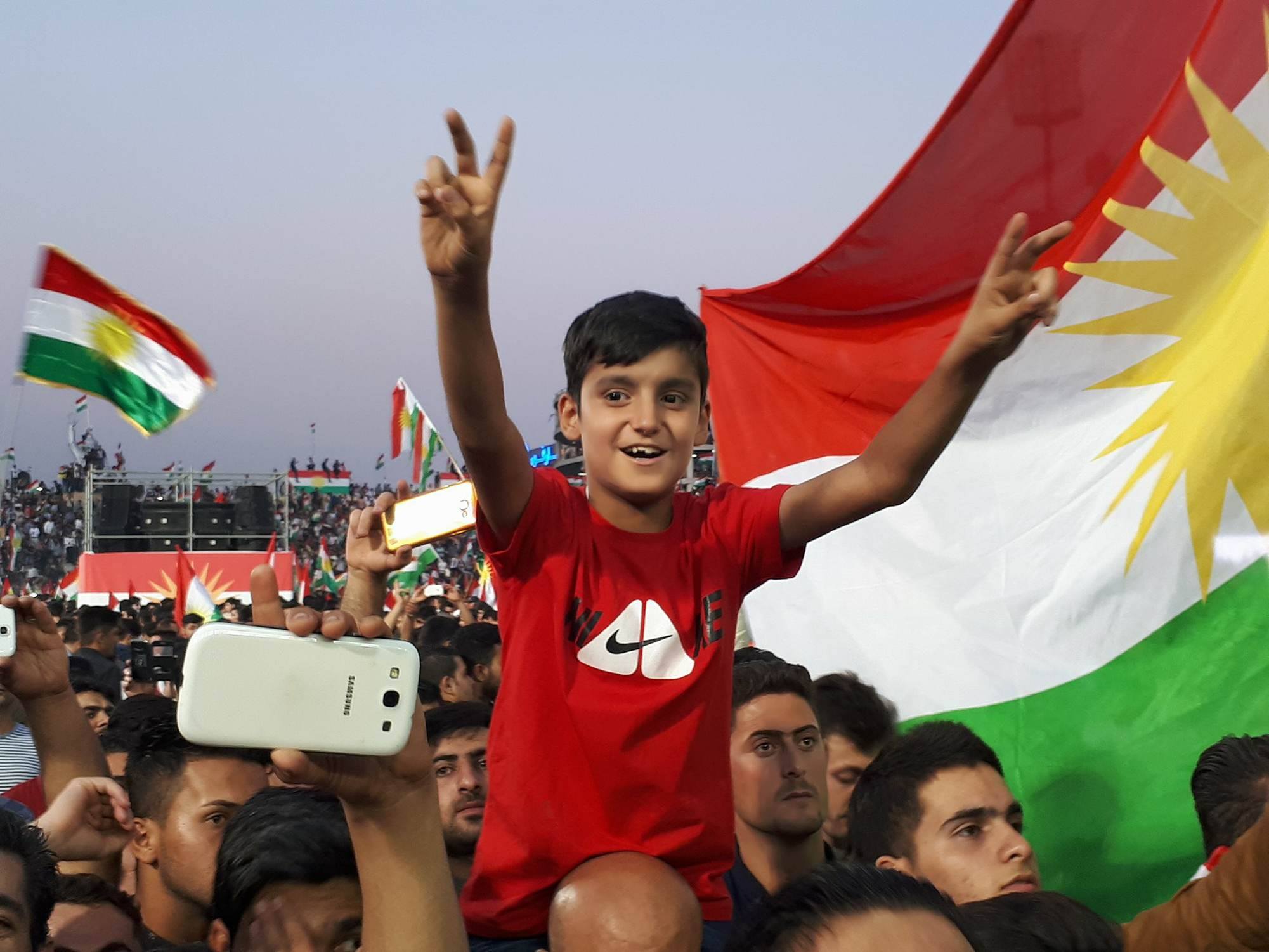 Lida Filippakis, reporting from Erbil for IBNA
Joyful faces, festive atmosphere, colour outside and in people's souls, discussions full of hope for the future and ahead of them the possibility of a country of their own.
Everyone in Iraqi Kurdistan and even outside of it, knew the outcome of the referendum but is it actually going to be allowed to happen?
A vast number hit the polls last Monday to cast their ballot with the majority voting in favour of the independence. One of the major newspapers in Iraqi Kurdistan, "Rudaw", wrote that 72% of the people went to vote on September 25th thus expressing their opinions publicly and declaring their decision in an official way. Of them 92% answered positively to the referendum's question that was put to them.
Five days later, life goes on as before, seemingly uninterrupted by nothing at all, while president Barzani's speech at the main stadium of Erbil (Franso Hariri Stadium) last Friday –where more than 25,000 people came to this open gathering- is an echo of the very recent past.
However, the present is quite harsh and the consequences of the positive outcome form a reality. Tehran decided and closed its airspace, already before the big ballot day, practically disrupting all flights from there to Erbil and vice versa.
Turkey, that imposed tighter controls at the Habur (also known as Ibrahim Khalil border or Frontier Gate) border which crosses to Iraq did not rule out the possibility of closing it completely and followed Iran's example regarding the flights to and from Erbil. As a result, this evening at 18:00 p.m. Erbil time, there will be a de facto halt of all Turkish Airlines and its subsidiaries' flights to and from Erbil and Sulaymaniyah airports of Iraqi Kurdistan. Loyal to the Iraqi government, EgyptAir and the national flag-carrier airline of Lebanon, Middle East Airlines, have as well agreed to suspend their routes at Baghdad's request.
As regards to the two airports mentioned above, there is an ongoing quarrel over their control. Baghdad wants to govern decisions related to them and have them subject to the Civil Aviation Authority of Iraq. But, Barzani's Kurdistan Regional Government (KRG) does not give the green light for anything of the sort. Instead, officials underline that the closure of the airport, especially the one in Erbil, would cause great distress not only to Kurds but to expats and foreign officials living in Kurdistan, too, not to mention the U.N. that are helping the refugees in Iraq plus the latter themselves – many of whom used the airport as a way out of Iraq.
Adding oil to the fire
On top of that, Ankara has expressed its wish to boycott Northern Iraqi oil and natural gas. Would this inevitably turn Iraqi Kurdistan into a financial hinterland, cutting it off completely from the economic standards that enjoys till this moment? For sure, if it goes ahead, it will affect Kurdistan gravely since Turkey remains one of its best black gold buyers.
Nevertheless, the international market does not fear any substantial interruptions to oil supplies, mainly because of the role of Russia in this geopolitical and financial puzzle.
According to Alan Mohtadi, of T&S Consulting Energy and Security: "By having a Russian state company heavily invest in the Kurdistan region's oil infrastructure and by resolving outstanding debts and payment issues with other oil companies, the risk of Turkey trying to close the Kurds' export and revenue route is greatly reduced." (Financial Times, 25.09.2017 ).
And the explanation of it all has to do with a recent economical oil and gas agreement between the KRG and Russia's Rosneft state-supported giant.
Among other deals, Russia intends to invest on KRG's oil infrastructure, also wishing to reach the 1m barrels of crude per day from 700,000 barrels produced now, by the end of the present year.
Another key-player that could, if not save, then at least allow the Kurdish economy to stay afloat is Israel; an eager supporter of last Monday's referendum and a country which openly opposed the international community and its condemnation of Barzani's decision instead opting for further helping the KRG stand on its feet.
Last but not least, it is important to understand that the overall situation is complicated and the protagonists are not only numerous but very demanding too. Above all, it is logic that has to prevail as there are already many fronts open. Fronts no one knows when they will close. Thus, the effort for steady steps and normality should be great and made on a daily basis, especially now that the starting point is not promising at all, with Erbil and Baghdad under enormous pressure./IBNA
Photos: Lida Filippakis