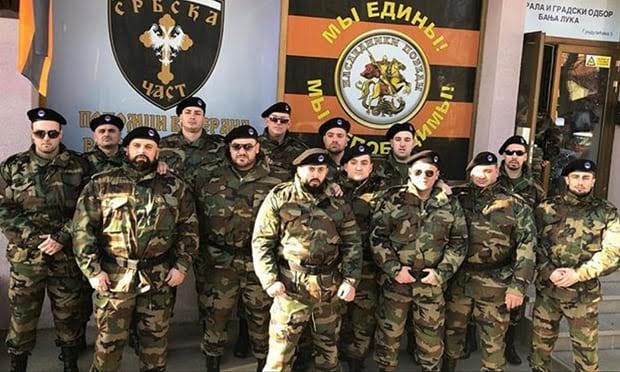 A group of about 50 members, mostly young males, raised the level of concern in Bosnia and Herzegovina as it is thought to be a paramilitary organisation under the control of RS president, Milorad Dodik.
The group calls itself "Srbska čast" ("Serbian honour") and claims it is a humanitarian organisation which helps the Serb veterans of the war in Bosnia 1992-1995. Muscly, in black T-shirts and camouflage uniforms, the members do not look like humanitarian workers in the field. Controversy surrounding this organisation is even bigger since they are linked with the Russian biker organisation "Night wolves", whose base is in Serbia; rumour has it, they are based in the city of Niš, where they allegedly undergo military training. There is also the controversy about their participation at the Day of Republika Srpska parade, January 9, when they marched at the end. According to photos revealed in the past few days, Milorad Dodik met with the delegation of this organisation several times. Also, "Srbska čast" held a meeting in the RS National Assembly building as a non-governmental organisation.
A story about this organisation first appeared on Žurnal web site, and later on it was taken by several foreign media that published the story again. Members of "Srbska čast", according to the report, are individuals with criminal records and the president of the RS branch, Igor Bilbija, has been arrested several times in the past, mostly because of usury deals and incidents that ended badly -injuries wise- for his rivals. Among the members -something that photos prove- is Damir Došen, too, a convicted war criminal from the city of Prijedor.
But, what concerned higher level officials was the members' stance on social networks. "We are ready!", reads one of the posts on Facebook, under a photo of guys in camouflage uniforms. Another photo shows a man who shoots with a firearm during training, reading "We train!". Media across BiH are trying to find as much as they can in connection with "Srbska čast" that could prove their close links to Milorad Dodik, the Russian Information Centre in Niš and paramilitary organisations in Russia.
Photo: N1
BiH Minister of Security, Dragan Mektić, confirmed that his Ministry have relevant information about "Srbska čast" and that this organisation is under investigation conducted in order to determine if it is a terrorist or a humanitarian organisation. The public concern is at so high a level that, even the Bosniak MPs in BiH Parliament demanded an investigation into this group.
Most of the Federation BiH media reported that "Srbska čast" is under the direct command of Dodik, forcing the RS President's Office to react with a press release, that said these 'formations' are extremely dangerous.
At the same time, analysts close to Dodik are saying that the problem is not in RS or among "Srbska čast" members but rather in the Federation of BiH, where a large number of islamic radical returnees from the Syrian and Iraqi battlefields were welcomed, without trying them in court. Also, the same experts see this story as an attempt to prove the U.S. Senate report's words about Russia's influence in Europe, right; let us not forget that, in that report, Milorad Dodik was described as Kremlin's man in BiH, able to stop the state from entering NATO.
"Srbska čast" and the Organisation of RS Veterans announced that they will sue minister Mektić and two journalists who "falsified information about 'Srbska čast', presenting it as terrorist organisation".
Photo: Members of "Srbska čast" inside the parliament, Hayat / Avaz
RS opposition parties issued several press releases regarding "Srbska čast", mostly asking about who gave them permission to hold a meeting in the RS National Assembly building…/IBNA