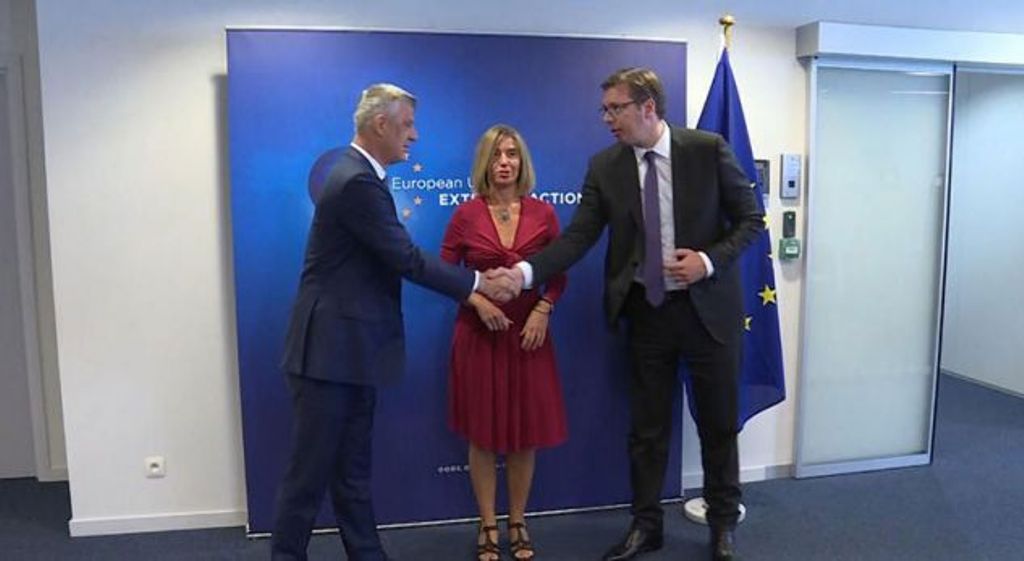 The head of the EU Foreign Policy, Federica Mogherini is expected to act as mediator today in the new round of talks between Kosovo and Serbia.
A statement released by her office says that the meeting between the two presidents is expected to discuss the agreement on the normalization of relations and the future steps that the sides need to take.
Last month, both sides had agreed on "intensifying their efforts in the weeks to come", in search of an inclusive agreement for the normalization of relations between the two countries.
Pristina says that this agreement should include a mutual recognition of the two countries and Kosovo's accession in the UN. Belgrade, which contests Kosovo's independence, is asking for "compromise", but without specifying the sort of compromise that it's looking for. Several Serb politicians have reiterated the fact that the division of Kosovo may act as a solution. What they suggest is for the northern part of the country, which is inhabited by Serbs, to be given to Serbia, but Pristina has not accepted this idea.
On Tuesday, the French president, Emmanuel Macron told the Serb president, Aleksandar Vucic that Serbia's accession in the European Union depends on the domestic reforms and the normalization of relations with Kosovo.
President of Kosovo, Hashim Thaci is in Brussels along with PM Haradinaj and parliamentary speaker, Kadri Veseli. Kosovo's senior officials are expected to meet commissioner Mogherini in a move which aims at securing support for the talks.
However, opposition in Kosovo says that the current institutions have no legitimacy to lead the talks. /ibna/