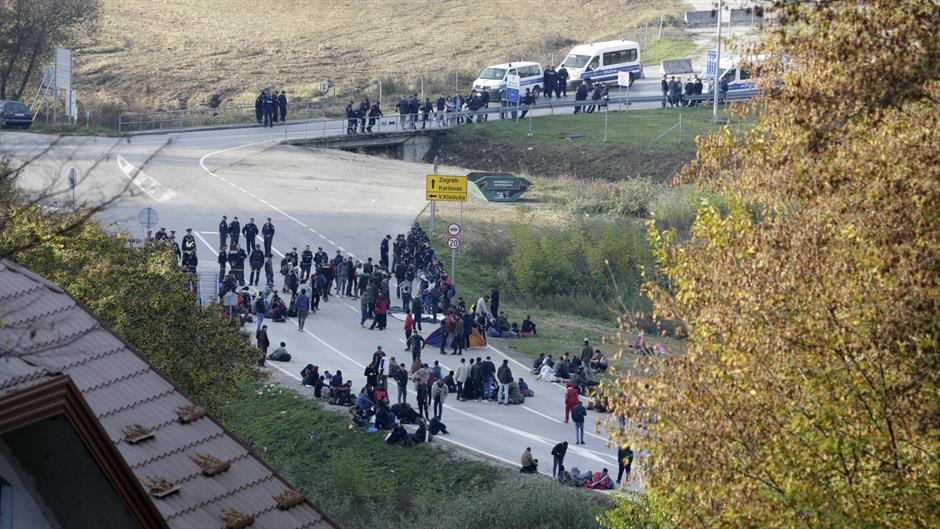 A five-year-old migrant child was injured and taken to hospital after a group of migrants clashed with police at the Maljevac border crossing of BiH with Croatia, on the Bosnian side, near the city of Velika Kladuša.
"We received three injured migrants, a five-year-old and two adults who are under observation", the Velika Kladuša hospital authorities announced.
Since Monday morning, things have got rough in the area and tensions run high.
It is estimated that about 10 000 migrants are in the wider region but those at the border are way less.
On Wednesday morning, after having decided to spend two -very cold- nights in the open, a small group of migrants broke through the police cordon and tried to cross into Croatia.
Bosnian police stopped them halfway through to the Croatian border but the Croat Special Police Forces were also ready to push them back should the need arise.
Migrants who got to "no man's land" between BiH and Croatia began clashing with Croatian police hurling stones and tree branches. One migrant tried to injure himself with a knife, but a police officer prevented him from doing it. Croat forces used tear-gas and closed the border using a security fence. According to police sources, in spite of the complicated security issues, the situation is under control.
The BiH Ministry of Security concluded on Wednesday that the "Ušivak" military barracks near Sarajevo, will open and be used as a migration centre. Migrants are not satisfied because it is situated far from border crossing.
Additional facilities for migrants (shelters) near Bihać and Velika Kladuša are hanging in the air and feel like unanswered questions. Unsatisfied with conditions in Sarajevo, another group of about 90 migrants left for Bihać on a train, however, police forbade them from getting off it. Early on Wednesday afternoon police escorted them to busses, that are to drive them back to Sarajevo, in "Ušivak".
Although Bosnia and Herzegovina has always been considered a transit state, the "layover" is quite long and takes a toll both on locals and the migrants who wish to get to central and/or northern Europe.
One more issue among the many existing problems is caused due to the unusual territorial "status" and political reality in the country. BiH, with its two constitutional, legal and political entities (FBiH and RS – Washington Agreement & Dayton Agreement) and 10 cantons, has unwillingly put more hurdles on the already bumpy way called 'managing illegal migration'.
The actual difficulty lies in the fact that migrants are in FBiH, the authorities of which have limited responsibilities in the ten cantons since each and every one of them has its very own Ministry of Interior.
The future picture looks dark as migration is not easy to handle while, simultaneously migrant flows to Europe, via the Balkan route record an increase…. / IBNA