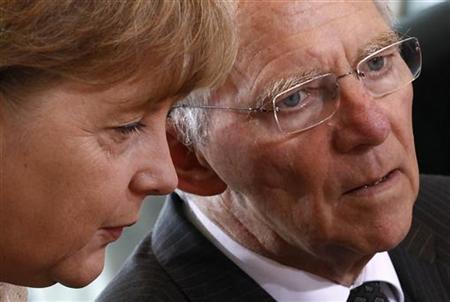 By Christos T. Panagopoulos
German Chancellor, Angela Merkel, repeated on Friday her firm position that she doesn't see a potential "haircut" of the Greek debt, "because the possibility of such a solution would equal a multi-billion burden for all member-states who participate in the Eurozone".
During an interview to German newspapers, "Märkische Oderzeitung" and "Südwest Presse", Mrs. Merkel stated that her country supports Greece in European level and helps the difficult procedure of restructuring the country by bilateral initiatives.
Moreover, Germany's Minister of Finance, Wolfgang Schäuble, moving on the same wave length with Mrs. Merkel, noted that "the devaluation of Greece's debt was a special condition". "Everyone who denies such a thing should know what to do. No investor would put money on euro-bonds", he added.
Mr. Schäuble didn't miss to express once again its solidarity towards the Greek citizens, but repeated that "the financial program is planned in such manner, so that the Greek government will have be having full control over its debt by 2020". "No one else can put up Greece's obligations on his shoulders. I know how harsh this for many people", concluded the German FM.
Source: Süddeutsche Zeitung