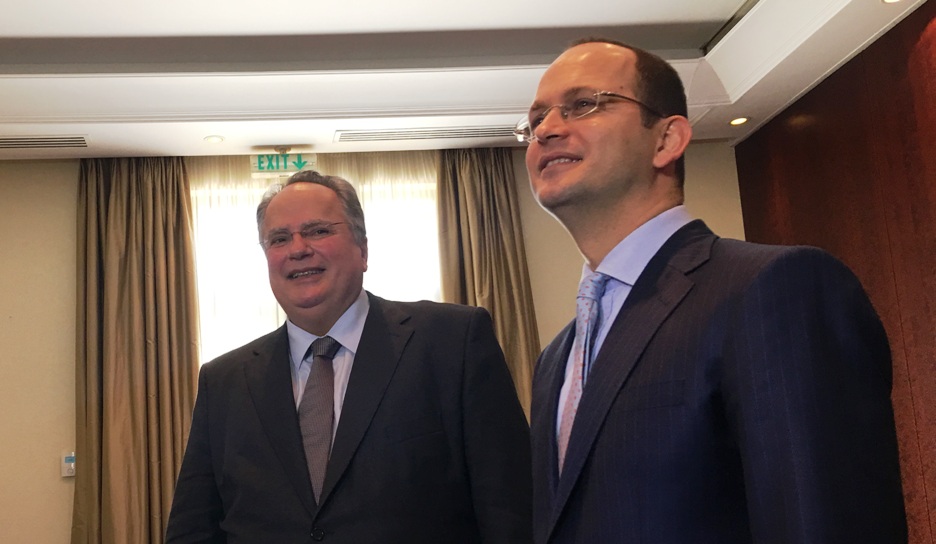 Absurdity: a statement by the Greek Foreign Minister Kotzias on Turkey is interpreted as a stance on Albania
In Talin, Estonia, a summit of the Foreign ministers of EU member and candidate member countries was held in the recent days. As it was explained by the Albanian Foreign Minister, Ditmir Bushati, this was "a periodical format where viewpoints were exchanged on the environment of security, the process of modernizing reforms and joint responses for common challenges".
The Greek Foreign Minister, Nikos Kotzias spoke for the Greek media during this summit. When asked by journalists on the novelties of this meeting, Kotzias said that the summit discussed the Syrian issue and the need to help peace in the Middle East and the two state solution, Palestine and Israel. Kotzias said that the summit also discussed North Korea and its nuclear program, by condemning Pyongyang's actions.
Mr. Kotzias also talked about the latest developments in several countries of the East and Balkans. "I also stressed that issues of human rights should not be touched upon selectively and I presented a number of past cases manifesting abuse. Finally, we held discussions with the countries of the Eastern Neighbourhood, with the four Western Balkan countries that are candidates for EU membership, as well as with Turkey, and we exchanged views on how this issue can be promoted. I also discussed with a number of Ministers and Commissioners and I made it very clear under which terms and conditions the negotiations with some of these candidate countries could be launched."
At the end of his statement, Mr. Kotzias also answered a question: "Minister, there are many voices who now call for a stop to Turkey's accession process."
Mr. Kotzias response to this was: "There are indeed voices calling for a discontinuation, there are voices calling for postponement, but I think there is agreement that we should look seriously at the issue of the Customs Union.
By shedding light on this declaration, the Greek Foreign Ministry has clarified that it does not take such stance on Albania.
Kotzia's comment on Turkey has been commented by social networks in Albania as a stance on Albania. The network was full of comments such as "Greece puts its veto on the integration of Albania in the EU" and these turned into news stories in web portals. These news stories were followed by Monday's declaration made by PM Edi Rama on the relations between Greece and Albania. Meanwhile, Mr. Rama also talked about the importance of relations between the two countries and explained that "we want mutual friendship, mutual respect and strategic cooperation" and the following declaration was commented by the network as a "reply" to Kotzias. "Despite the problems that it has, Albania will never close its eyes and it will always uphold the truth and its rights", Rama said, followed by hate comments in social networks, which, unfortunately, harm relations between the two countries. What's more, the same thing also happened in the Greek media, Mr. Rama's declaration was misunderstood.
All of these originated from irresponsible comments launched in the network. These comments may also be considered as ill-intentioned aiming at harming relations between the two countries, at a time when diplomacy in Tirana and Athens have been trying for a while now to address accumulated problems. As if they are not enough we see other ones emerging as a result of the irresponsibility of some people who want to mine neighboring relations between our countries.
Albanian Free Press learned that this development has worried diplomacy of both countries. The newspaper also learned from diplomatic sources on Monday that there have been contacts between the Albanian and Greek Foreign Ministries, where the Albanian side has confirmed that there had been a misunderstanding of Mr. Kotzias' declaration in the Albanian press. /balkaneu.com/