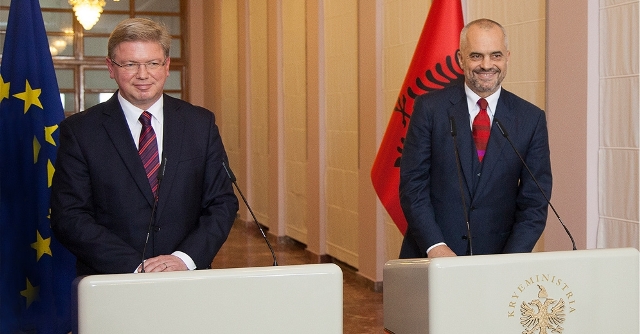 Tirana, November 12, 2013
In a joint press conference with the EU Enlargement Commissioner, Stefan Fule, Premier Edi Rama said that the dialogue of first level has just been finalized.
Meanwhile, as far as the issue of Syrian chemical weapons which may be destroyed in Albania is concerned, he said that there's no more information than what was made available by the Minister of Foreign Affairs.
He said that Albania has been contacted by USA, stressing that it would not be a good thing if Albania weren't contacted on an issue on which all NATO member countries were contacted.
"During the contacts between me and the US Secretary of State for about 30 minutes on the phone, we discussed on an issue for which there hasn't been a decision and there isn't a greater transparency than this one for a simple reason, because we're involved with other countries in a domestic discussion and we're not in the right circumstances to make a decision. At the moment that we will need to take a decision, we will share this with the public and without any doubt, with parliament, which means that at the present, we're aware about the reaction that this issue has provoked, but on the other hand, I'd like to say to all Albanian people that the majority of things that they are told are not true", declared Premier Rama.
The head of the government said that the people must know that the Prime Minister is aware and doing his job in order to represent in a decent way the national interest of Albania.
The head of the government said that although he hasn't directly met with the heads of the protest against chemical weapons, it's a fact that Albania is not yet ready to take a decision, but when a decision is made, the public will be informed along with parliament about the arguments that are needed for every Albania not only not to be afraid, but to be proud if Albania takes this step.
As far as the integration process is concerned, Rama said that this first session of the dialogue of first level has marked an important moment and at the same time, it was a missing element to address important issues.
On his part, Mr. Fule said that this was a good year for Albania in the path of its efforts to join the European Union and a good year as far as free and honest connections are concerned.
According to him, Albanians need a message on this path, therefore dialogue should start on key priorities.
Mr. Fule also stressed in a specific way the important information as far as the actions of the government are concerned in the fight against crime and corruption, considering them as two key domains where efforts must continue in order for member countries to grant Albania the EU candidate status. /ibna/