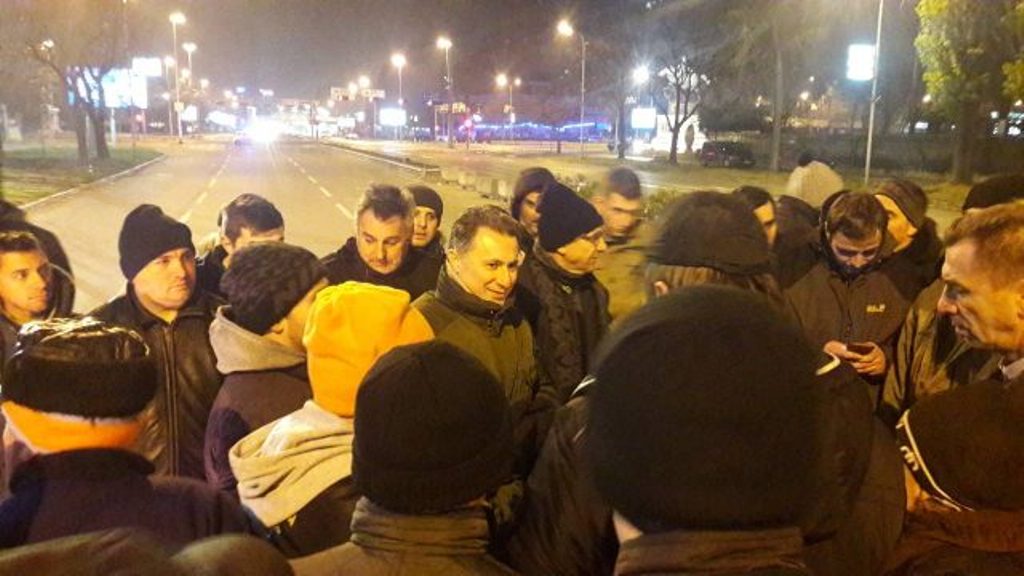 Until the early hours of the morning, tens of VMRO-DPMNE's supporters, accompanied by their leader, Nikola Gruevski, stopped in front of the Criminal Court in Skopje, which decided on the security measure that was going to apply for the people who were arrested for the violent events taken place on 27 April in the country's parliament.
The Criminal Court has remanded into custody 17 of them.  Among them is also the former minister of Interior, Mitko Cavkov, who was sent in the penitentiary facility of Shutka in Skopje. Cavkov is accused about the fact that police didn't react on time to prevent violence in Parliament. Meanwhile, three VMRO-DPMNE's MPs have been placed under house arrest.
Last night, the protesters of VMRO-DPMNE demanded an amnesty for the arrested people, because, according to them, they have upheld state and national interests. Philip Petrovski of VMRO-DPMNE said that if they are not released, then the situation will be radicalized.
Meanwhile, Socialist Democratic Party chaired by PM Zoran Zaev reacted by saying that VMRO-DPMNE should not politicize this case and allow the justice system to shed light on the events of 27 April.
Meanwhile, in a speech held last night, president George Ivanov said that the responsible people for the April 27 in Parliament must be brought to justice, but institutions must respect human rights.
Ivanov said that people cannot be treated like a terrorist organization and  expressed his concern for what he considered to be political revenge. /balkaneu.com/