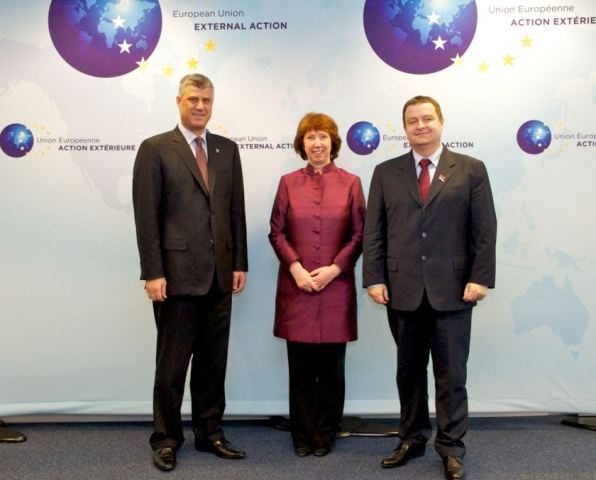 Brussels, April 18, 2013
By Tinka Kurti
The new attempt of European Union to bring closer Pristina and Belgrade to sign an agreement between the two states to normalize relations between the two countries and pave the way for EU integration failed.
The agreement at the end of this process is a requirement for both countries in order to advance on the path of European integration.
In the early hours of Thursday ended the ninth round of talks between Prime Minister of Kosovo Hashim Thaci and Serbian PM, Ivica Daçiç.
After talks that lasted numerous hours, EU High Representative for Foreign Affairs and Security Policy Catherine Ashton said the parties were given little time to decide whether or not they could finalize the agreement.
"It was a long and intense day. We tried to approximate all the different ideas that have been discussed in recent months and have asked the delegations from Pristina and Belgrade to review them and see if an agreement can be reached,"- said Mrs. Ashton.
"Last time I said that the agreement is close; the differences are narrow, but deep. Today, I can say with confidence that the differences are really narrow and shallow", said Baroness Ashton.
Kosovo Prime Minister Hashim Thaci said the barrier in reaching the agreement was Serbia.
"Baroness Ashton's proposal was clear and we have accepted it without any changes. Just as we have done in earlier times. But Serbia has refused," said Thaçi.
He stated that to confirm the official stance of Kosovo to accept the proposals to mediator Ashton, an "official admission letter" will be addressed to Baroness Ashton and diplomats of 27 countries of the EU and the U.S.
"There are still a few days until the 22 of this month, when the report will be presented by Baroness Ashton. It is important that this agreement is reached," said Thaci.
He considered the agreement as a benefit of peace and stability in the region, while Serbia has commissioned the work for its achievement and to avoid the "logic of Vojisllav Sheshel."
On the other hand, Prime Minister of Serbia, Ivica Daçiq,, said that the proposals made by Baroness Ashton, were summarized in 15 points.
He said that they were acceptable for Belgrade, but according to him it was Pristina that prevented reaching the agreement.
"Thaci rejected the proposal. He wanted to connect the settlement of police with a new point which says that both parties are committed not to block each other in international organizations," said Dacic.
Acceptance of this point from Belgrade, as stated by Mr. Daçiç, would imply recognition of Kosovo's independence from Serbia. He underlined that "this will not happen."
"Serbia is ready in the coming days to continue this dialogue, and to come to a solution," said Serbian Prime Minister. /ibna/