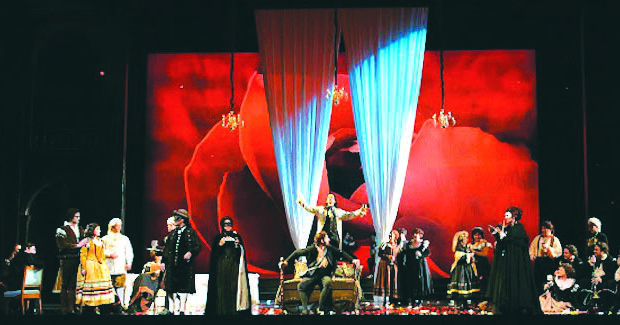 Tirana, 18 September 2015/Independent Balkan News Agency
The ninth edition of the International Festival of classical music "Musical Encounters of two Worlds" has started in Tirana. The prominent soprano, Miriam Tola and Albanian baritone with an international fame, Sokolin Asllani, opened this event at the Cultural Center of the Orthodox Cathedral in Tirana.
In the concert "Melody for Soprano and Baritone", they were accompanied by the prominent pianist of the Salzburg Mozarteum, Alessandro Misciasci.
The artists interpreted arias and different pieces selected from the best works of known composers such as Verdi, Mozart, Tchaikovsky, Giordano, etc.
Foreign critics consider Tola and Asllani (on the photos), as two special voices and they are considered by the media as two successful artists in world stages.
Soprano Miriam Tole was graduated in 1994 for lyrical canto at the Academy of Fine Arts in Tirana. For the first time, she performed for the "Bastiano and Bastiana" by W. A. Mozart. Three years later, she was announced as a semi finalist of the contest "Voci Verdine" of Bussetto.
In 2000, she was ranked among the first places in the "Puccini" contest in Lincoln Center, New York (USA).
From 1998 until 2001, Miriam continued her studies in lyrical canto in the Mozarteum of Salsburg, by also participating in different productions of theater in this city.
In 2001, she was given the Special Jury Award as participant in the international contest "L. Zachary" (California). As a young talent, she was awarded with "Eberhard Waechter" prize on the same year from Staatsopera (Vienna). Her career continues with concerts all around the world.
Baritone Sokolin Asllani first studied music in the "Preng Jakova" high school in Shkoder and followed his university studies as a pianist at the University of Fine Arts in Tirana. He was chosen for the main role in the "Don Giovanni" opera and the role of Don Alfonso in the opera "Cosi fan tutti", in the Theater of Opera and Ballet in Tirana.
Asllani performed in Germany (2001) as Orpheus in "Gluck's Orpheus and Euridice". In 2002, he sang in the Viena National Opera production, "Das Traumfresserchen" many many others.
Being a permanent singer in the Wiener Konzerthaus and in Wiener Musikverein, he has been mostly focused on Mozart's works, in the role of "Count Almaviva" at "Figaro's Wedding".
Asllani fascinated the public of North America in 2006 when he gave concerts in Montreal, in Avery Fisher Hall in New York, in Kimmel Center in Philadelphia, in Roy Thomson Hall in Toronto, accompanied by the Boston symphony orchestra. /ibna/