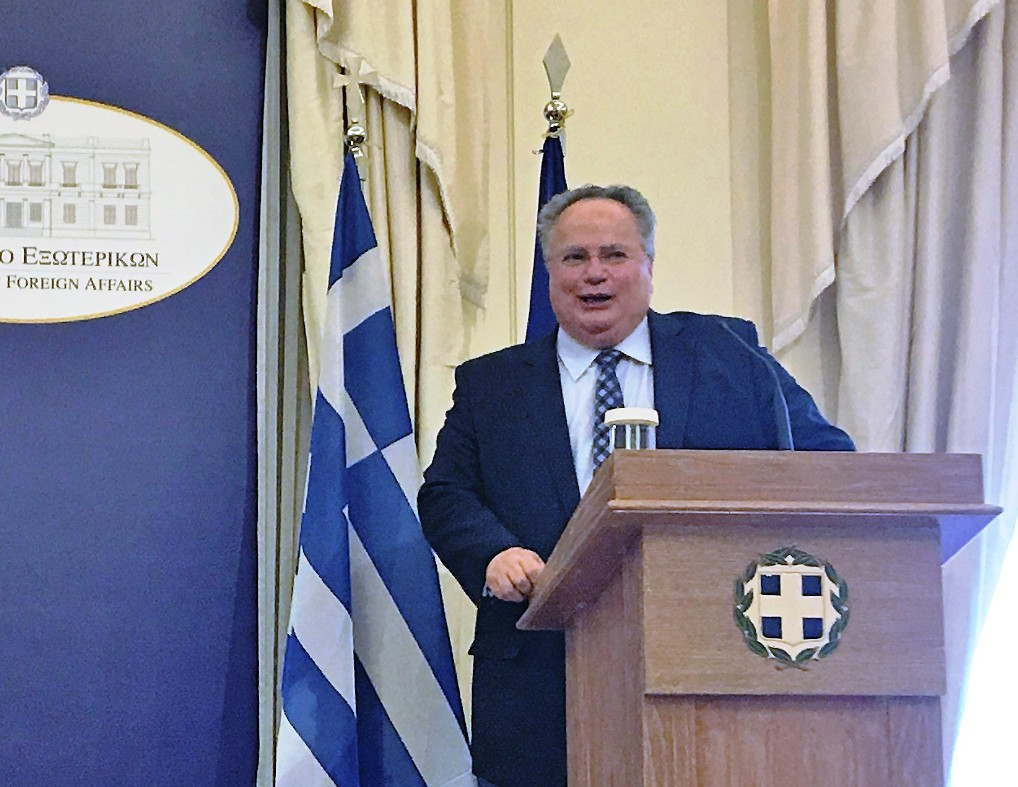 The Cyprus issue and the second Geneva conference set on June 28 were among the issues discussed during joint statements by Greece's Foreign Minister Nikos Kotzias and his visiting Montenegrin counterpart Srdjan Darmanović after their two-hour meeting in Athens on Tuesday.
Kotzias noted that no one would be happier than him "if we solve the Cyprus issue, when we end the guarantee treaties and the presence of foreign troops." He announced that he will be making a lengthy statements on this issue over the coming days.
Questioned about the name dispute with the Former Yugoslav Republic of Macedonia (FYROM), Kotzias said that this will probably not be on the agenda during his meeting with FYROM Foreign Minister Nikola Dimitrov on Wednesday.
"I do not think we will discuss the name issue because this is an introductory meeting. We may discuss the method we will use to continue our discussion on relations between the two countries," Kotzias said. These talks were likely to focus on an exchange of views regarding recent developments in bilateral relations and their progress going forward, he added, while the Greek side had a number of new thoughts and proposals that will be presented in the framework of existing Confidence Building Measures (CBMs) between the two countries.
"We will once again demonstrate and confirm that the foremost issue for Greece is the stability and security of the region and, by extension, of that country," he said. Kotzias expressed his confidence that his FYROM counterpart – an expert diplomat who had participated in the negotiations on the name dispute under other governments – will also explore the possibilities for a solution.
Kotzias said he would once again highlight that states in the Balkan region, especially, must demonstrate an ability to absorb a culture of comprise and consensus in their international relations. "The better [a state] does this in its international relations, the greater the chances that it will function democratically through consensus and a culture of compromise in its interior," he added.
Referring to the messages and phone calls that he exchanged with Dimitrov and the new prime minister in FYROM Zoran Zaev, as well as calls between Zaev and Greek Prime Minister Alexis Tsipras, Kotzias said these indicated "good will and an intention to finish with irredentism."
"No one will be happier man than me when we are done with this matter, which as I always say, converts history from a school into a prison," he added./IBNA