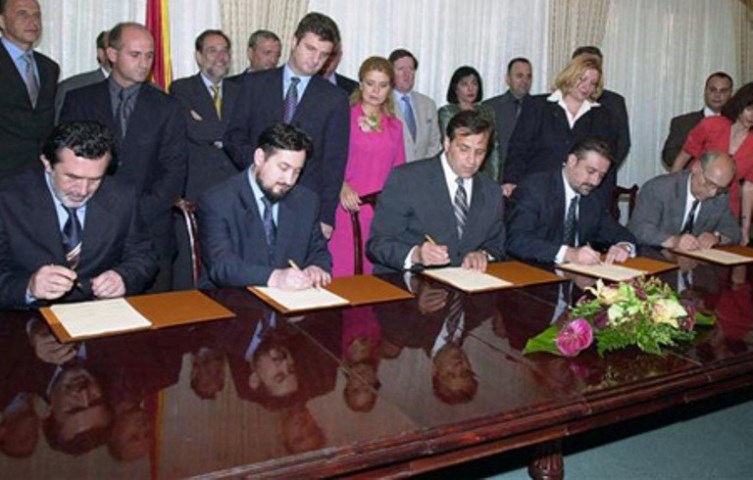 Today is the 18th Anniversary of the Ohrid Framework Agreement (OFA), which put an end to the 2001 conflict in North Macedonia. The pact ended months of fighting between the government's security forces and ethnic Albanian National Liberation Army (UCK).
Following days of negotiations in Ohrid, the OFA was signed in Skopje on 13 August 2001. Then President Boris Trajkovski, former Prime Minister and VMRO-DPMNE leader Ljubco Georgievski, as well as SDSM, DPA and PDP leaders, Branko Crvenkovski, Arben Xhaferi and Imer Imeri respectively, signed the treaty.
The EU and US special representatives, Francois Leotard and James Pardew respectively, signed the document on behalf of the international community.
More than 130 laws and amendments have been passed over the years, most of which refer to non-discrimination and just representation, identity, culture, education and power decentralization.
Earlier in the year, the Parliament also adopted the Law on the Use of Languages, according to which the official language in all state institutions, public enterprises, agencies, directorates, institutes and organizations, commissions, public entities besides the Macedonian is the Albanian language spoken by 20 percent of the citizens. Naser Ziberi, one of the experts involved in drafting the Ohrid Agreement, says the spirit of this agreement must be maintained.
"North Macedonia before and after the Ohrid Agreement is certainly not the same. Northern Macedonia has serious transformations in the way it functions, in the way of equality of all citizens regardless of ethnicity, and in the way of achieving the aspirations of non-majority communities, here in the first place Albanians. The Ohrid Agreement has certainly made a serious contribution in this regard", Ziberi says./ibna