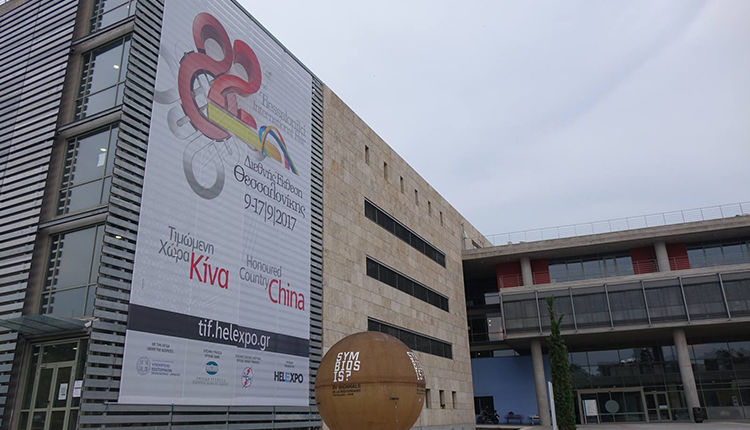 The 82nd Thessaloniki International Fair (TIF) aims to further boost bilateral trade between Greece and China, which last year exceeded 4.5 billion US dollars. This year's TIF will host around 1,500 exhibitors from 1,015 last year. Prime Minister Alexis Tsipras will inaugurate the trade fair with the traditional policy speech on Saturday night.
China, as a honored country, occupies an exhibition area of six acres, with a delegation of 400 people and about 170 companies including seven business giants, who play a key role in the Chinese pursuit of a new "Silk Road", such as COSCO and China Development Bank (CDB), one of the world's largest development financial institution, which on the occasion of the TIF will also explore the prospects for project financing in Greece (CDB recently signed a memorandum of 3 billion US dollars with Deutsche Bank to finance economic co-operation between "One Belt, One Road", the new "Silk Road"),
"We want – and we believe this is feasible – that Thessaloniki should become a hub for the promotion of Chinese products in the Balkans and the big market in Europe," said Tasos Tzikas, chairman of TIF-Helexpo SA, during a press conference and added that China's presence in the exhibition gives real substance to the internationalization of the company, which in recent years has developed many international collaborations. "We have repeatedly tried to have China as a honorable country, we signed two Memoranda of Understanding with the Canton and Shenzhen Exhibition Organizations, but we" locked "it in the first half of the year with the visit of the Prime Minister," Mr Tzikas noted and recalled that in addition to the aforementioned Chinese companies, the technological giant Huawei Technologies Co. Ltd, Air China (which after 10 years of absence has reconnected Greece and China to Greece) and 23 high-technology companies from the wider region of Shanghai will also participate.
TIF-Helexpo SA CEO Kyriakos Pozrikidis pointed out that China's participation in the TIF is considered to be totally successful "not only because of the numerous participations, but also because of the well-structured forums, business meetings and, of course, this great country is represented at the TIF with its government officials as much as possible".
According to Mr. Pozikridis, the Chinese participation forums are starting September 9 with the Greek-Chinese Cooperation Forum on "Investment Opportunities in Southeastern Europe: Trends and Challenges in the Energy Sector". On 10 September, the Greek-Chinese Cooperation Forum, which is the subject of the New Silk Road, is co-organized with the Athens-Macedonia News Agency (ANA) under the auspices of the President of the Republic, Prokopis Pavlopoulos. Similar forums continue until September 16 with topics related to energy, investment, agri-food and culture.
On the leg of culture, Beijing Sports Art University Art Troupe (BSU Art Troupe), one of the best martial arts groups in China, will present an impressive program combining dance with the martial arts.
China's political attache in Greece, Gao Wenqi, expressed the belief that bilateral relations between Greece and China are now at a new level, as the two countries celebrate the stimulation of their diplomatic ties and talked about rebuilding Silk Road in the 21st Century. He noted that bilateral trade amounted to 4.5 billion US dollars last year (with China's share of Greek exports standing at 4.9%) and that there is a prospect for further improvement and added that agreements between Greek and Chinese companies, expected in the TIF, will "liberate" fully beneficial cooperatives between the two sides.
TIF expects around 250,000 visitors this year from 17 countries: Cyprus, Slovakia, Poland, Luxembourg, South Africa, Armenia, Indonesia, FYROM, Bulgaria, India, Ukraine, Serbia, Russia, Tukey, Italy, Egypt and Iran.
In addition, 43 chambers are taking part in the 82nd TIF, with 360 companies, and significant entries from the members of the Central Union of Chambers of Greece and interesting events from Entreprise Greece, with limited public sector involvement.
The 82nd TIF covers a wide range of interests, from education, motoring, energy to beauty, gastronomy, innovation, e-gaming, etc., with many actions and events./IBNA
Source: AMNA