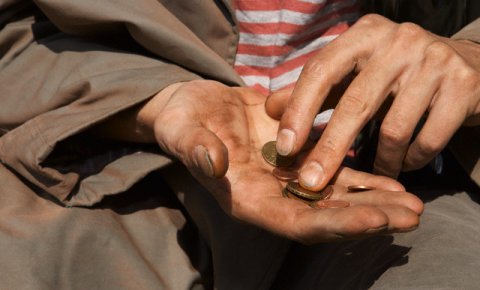 Podgorica, December 16, 2014/ Independent Balkan News Agency
By Adnan Prekic
Absolute poverty line in Montenegro in 2013 amounted to 186 euros. The National Statistical Office of Montenegro has announced that in the previous year below the poverty line lived approximately 8.6 percent of the population. According to the Census from 2011 Montenegro has 620,029 inhabitants, which means that more than 53,000 citizens live in poverty. The poverty rate, however, has been reduced compared to previous figures, since in 2012 it amounted to 11.3 percent.
The gigures of the National Bureau of Statistics of Montenegro point to a reduction of poverty. This is due to the growth of gross domestic product, an increase in wages and consumer price index. However, it points out that the rural population faces a higher risk of poverty than the urban population. Also, the poverty rate in the northern region is almost three times higher than the poverty rate in the southern region.
In households with three or more children, the risk of poverty is 2.5 times higher than the national average, while it is lowest in households whose heads are employed or retired persons. Last year poverty was reduced in both urban and rural areas.
In 2013, 20 percent of the richest people had consumption which was 4.3 times higher than 20 per cent spending of the poorest citizens. The highest rate of poverty is in the capital Podgorica, where it amounts to 12.5 percent.
Greater risk of poverty face unemployed citizens and children under 15 years of age. With self-employed poverty rate was 9.5 percent. The lowest poverty rate is among pensioners 5.2 percent and employees 3.1 percent. Poverty status is strongly influenced by the level of education. The poverty rate decreased as the level of education increases, so that the highest poverty rate (17.1 percent) are persons with primary education (99 per cent above average).
Official statistics say that the gross domestic product per capita increased several times. The GDP in 2003 was €1.510 billion, while in 2012 it amounted to €5.063 billion, which would mean that the standard of living, as measured by this indicator, improved by 3.4 times.
According to Eurostat data, if one eliminates the differences in prices, GDP per capita in Montenegro is 40% of the average GDP per capita in the EU. Among the countries in the region, Croatia has the highest GDP in purchasing power standards, which is 60% of the EU average. The average salary in the last three years in Montenegro ranged from €518 to €473. According to recent data, the average salary at the end of 2013 was €479.
However, for the minimum requirements of a family of four in Montenegro, according to official statistics, it is necessary to double that money. The minimum consumer basket in late 2013 amounted to €796.