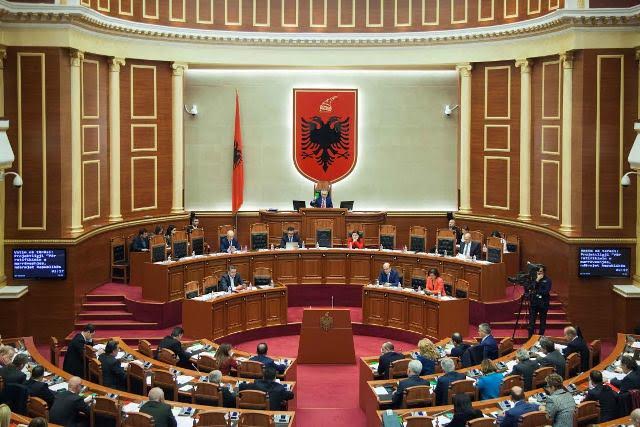 Tirana, 22 December 2015/Independent Balkan News Agency
In Albania, parliament has consensually approved an amnesty bill. This law benefits 720 inmates, but also hundreds of other people who have been fined by Albanian courts for different offenses.
Most of them who benefit from this amnesty are people under the age of 18, women over 50 and men over 60, with the exception of serious criminal offenses.
The amnesty is expected to come into effect immediately and all of those who benefit will spend the end of the year at home.
Socialist Movement for Integration MP, Mr. Petrit Vasili says that this amnesty has been made based on professional criteria. According to him, "the amnesty is an act of humanism for those people who have suffered the majority part of their sentence".
Opposition MP, Gent Strazimiri says that the amnesty must be extended to other categories too. "This amnesty benefits all of those who have a criminal activity and who tomorrow, may become MPs, directors, customs officials and tax inspectors. This amnesty doesn't benefit any of those who are unable to pay the power supply bill".
Socialist MP, Vasilika Hysi says that this amnesty will not benefit all those people who have evaded their sentence. "We have been careful in order for women, minors and elderly people to benefit from the amnesty. The amnesty excludes several criminal offenses. Those people who have committed serious criminal offenses cannot benefit from it", Hysi says.
This year's amnesty leads to a reduction in the number of inmates in the overpopulated prisons.
Latest figures show that there are around 6 thousand inmates in institutions which have a capacity of over 4500 people.
This amnesty extends its effects on several other inmates who benefit a reduction of up to a year and a half of their sentence.
This year's amnesty is harsher, because in 2014 it included inmates who had only three years of prison sentence left. The amnesty doesn't include those people who are under investigation or those who have not received final verdicts from courts. /ibna/