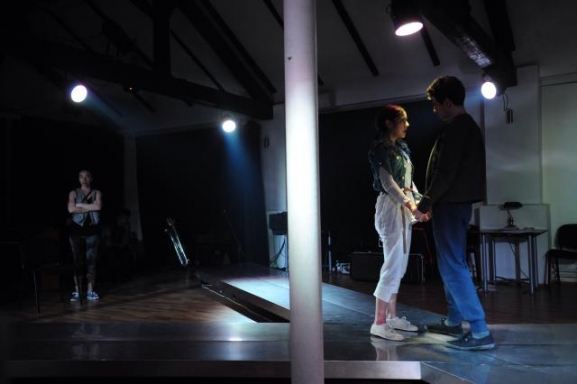 Pristina, April 7, 2015/Independent Balkan News Agency
By Elton Tota
Lots of applauses and ovation have accompanied the premier of "Romeo and Juliet" in on Sunday evening shown in the National Theater in Belgrade.
The show "Romeo and Juliet" put in stage by director Miki Manojlovic, was played in Serb and Albanian by Kosovo and Serb actors, in order to push forward dialogue and reconciliation in the region.
Romey and Montague family were played by Albanian actors from Kosovo, while Juliet and the Capulet family were played by Serbs.
After the show, the joint producer of this show, Jeton Neziraj, said that in a symbolical way, this drama marks the end of the conflict between Kosovo and Serbia.
Producer Miki Manojlovic said that the show aims to show that Serbs and Kosovars can work together, at least on the stage.
"We gave the show and we consider this process as our joint declaration. This is deeper than it looks", said Manojlovic.
The show will be shown again on Wednesday and Thursday on Belgrade and after that, it will travel to Pristina and other Balkan countries.
The show, produced by Miki Manojlovic had the following actors on the cast: Mensur Safqiju, Nikola Rakocevic, Armend Ismajli, Nebojsa Glogovac, Alban Ukaj, Goran Jevtic, Armend Baloku, Faris Berisa, Uliks Fehmiu, Edona Reshitaj, Natasa Tapuskovic, Milica Janevski, Anita Mancic and Arta Selimi.
This is not the first effort to use cultural events in order to overcome the differences that exist between the two countries. Polip, a literary festival held in Pristina since 2010, has Serb writers who participate in this festival on a regular basis. /ibna/