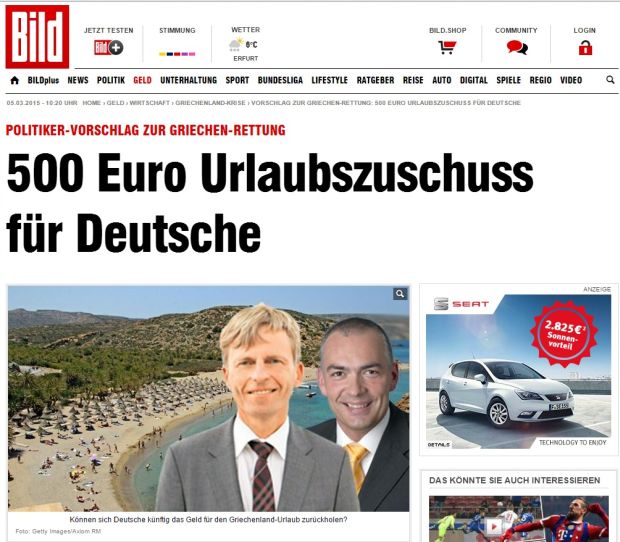 Athens, March 6, 2015/ Independent Balkan News Agency
By Spiros Sideris
With the title "Sun against Greek bankruptcy" was published today the article of the Bild, according to which two members of the Christian Democratic Party submitted a proposal to give a tax refund of up to EUR 500 to Germans who choose Greece for their vacations on condition that they will provide a similar amount of receipts from their holidays in the country of the southern Europe.
MPs Rüdiger Kruse and Axel Fischer, stated that with this proposal they want to help… the invigoration of the greek economy and the fight to combat tax evasion.
The proposal of the two MPs says that any German vacationing in Greece in the next three years will have to take receipts from everywhere and then submit them to the state to get back up to 500 euros per person!
For this to happen, however, the two MPs set the following three conditions:
The amount should not exceed EUR 500
Payment should be made by credit card
Receipts must be certified by the Greek tax authorities
As argued by the two German MPs, this will ensure that the amount will be taxed in Greece and will be a good incentive to boost tax consciousness and change the whole system., adding that both Greece and the Germans who will choose Greece for their holiday destination will benefit.