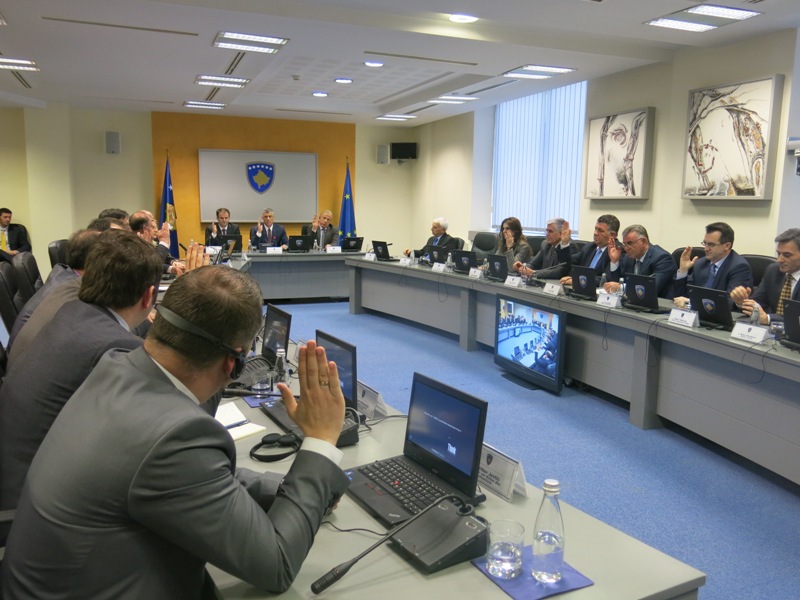 Pristina, March 11, 2014/Independent Balkan News Agency
By Elton Tota
The government of Kosovo has approved a decision to increase salaries for administration workers and other public institutions and also pensions. Based on this decision, which was announced by prime minister Hashim Thaci, salaries will see an average increase of 25%, where miners benefit the highest increase of 50%.
Yesterday (10.03), the government of Kosovo approved the decision which comes into effect on April 1, 2014 and prime minister Hashim Thaci said that over 240 thousand Kosovar households will benefit from this.
"This increase will benefit over 240 thousand households and it will include all civil servants. The number of civil servants that benefit from this increase is 80 475", declared prime minister Thaci during the meeting that approved the decision (photo).
This increase will also benefit school teachers, university professors, academics, scientific institutes, police officers, members of Kosovo Security Force, firefighters, inspectors, civil servants, nurses, doctors, specialists, taxing inspectors, auditors, prosecutors, judges, special prosecutors and other categories.
A 25% increase is also benefited by pensioners and categories in need. "66 thousand and 701 pensioners will benefit from this increase. Disabled people, pensioners, Kosovo Security Forces pensioners, pensioners who have worked in the mine of Trepce and war invalids will also benefit from this increase", said the head of the government.
PM Thaci said that disabled people, whose number amounts to 17 thousand and 450 people, will also benefit an increase.
"Benefiting this increase will also be war invalids the number of which is 8 thousand and 780, miners and pensioners of Trepce,  early pensioners of Kosovo Defence Troops amounting to 531, base pensions of contributors amounting to 35 thousand and 632 and pensioners from Kosovo Security Force amounting to 237", said Mr. Thaci.
According to him, the increase will be 25% except Trepce miners who will benefit an increase of 50%".
As far as political prisoners are concerned, the total number amounts to 4,197. This category of beneficiaries will benefit from the government's decision for a period of 5 years.
Kosovo is currently the only country in the Balkan region which applies pay increases of this high level.
In the past few years, pay increases were also applied by other countries, but they slowed down due to the economic crisis. Albania was the last one to surrender this year, by not making pay increases. In the past four years, the Albanian government increased salaries and pensions at a rate of 6% a year. /ibna/