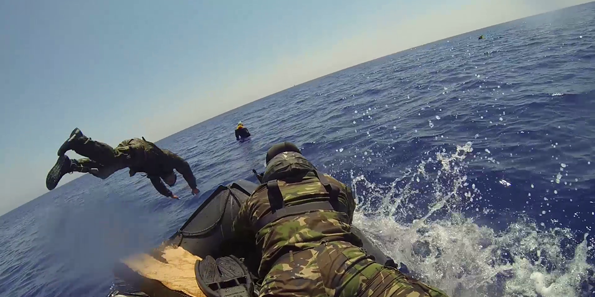 At 09:00 this morning, from the Zenon Coordinating Center in Larnaca, Cyprus' Minister of Defense Christoforos Fokaidis signaled the official start of the large-scale multinational exercise "NEMESIS – 2017", which is being be held for the fourth consecutive year. The exercise takes place within the Exclusive Economic Zone of the Republic of Cyprus, simulating the situation on a mining platform and involving the aeronautical forces and personnel of the Republic of Cyprus, Israel, France, Greece and the United Kingdom, the European Agency for Safety at Sea (EMSA) and ships of private companies EDT Offshore and SAIPEM S.p.A.
The Center for Coordination of Research and Rescue (LSDC) of Larnaca coordinates the exercise in cooperation with the competent services of the Republic of Cyprus and the participating countries.
The exercise aims to further develop effective co-operation and co-ordination between all the relevant services of the Republic of Cyprus as well as with neighbouring and friendly states for the immediate response to emergencies on merchant vessels and mining platforms, as well as other humanitarian operations in the Eastern Mediterranean.
The scenario of the exercise includes shipbuilding operations by the National Guard and Hellenic Navy teams on ships and on a hydrocarbon extraction platform, mass rescue operations after a naval accident by Cypriot Air Force and friendly states, and combating marine pollution within the area of ​​responsibility of the Republic of Cyprus by the Department of Fisheries and the Department of Merchant Shipping, with the participation of the special ship of the European Marine Service ssiou environment (EMSA). During the exercise, the special national plans "NEARCHOS" and "ORFEAS" will be tested, as well as transnational research and rescue agreements with neighbouring and friendly states./IBNA