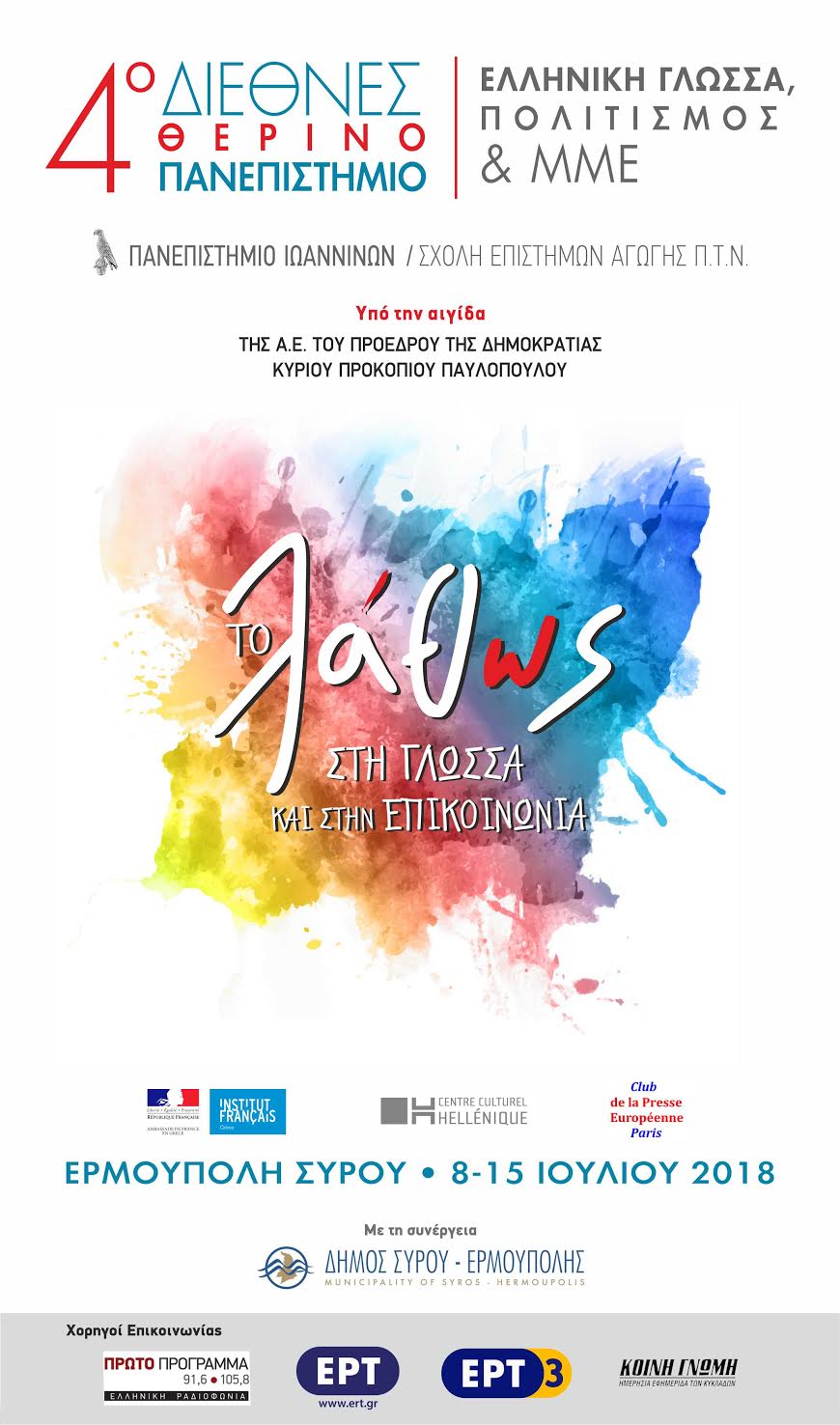 For the fourth consecutive year and after its presence on the Greek island of Andros, the International Summer University returns, this time on the Cycladic island of Syros.
The University of Ioannina – Department of Early Childhood Education in collaboration with the Centre Culturel Hellénique in Paris and the Club de la Presse Européenne, Paris are the organisers behind this year's event, under the auspices of the President of Greece, Prokopis Pavlopoulos.
It is all about the language, its beauty, necessity, meaning, use and… the mistakes we, the people make. Through linguistic paths, one can come closer to understanding the mistakes he/she makes and how these could be avoided in the future. Especially so, participants of the 2018 Summer Uni will get the opportunity to realise general, usual or/and daily language mistakes, as well as many mistakes people working in the Media make, and in what ways these "unfortunate" words could mislead, are misleading or -in some cases- are used in order to mislead the public.
Specialists from the fields of education, culture and the Mass Media have contributed massively so that the event in question offers condensed knowledge, encapsulated in lectures touched by the aura of the Greek summer – this year between the 8 and 15 of July.
Past years' Summer Uni had been supported, among others, by the Center for Hellenic Studies of the University of Harvard, the Greek Representation of the European Parliament, the Greek Section of the Association of European Journalists and the Orthodox Academy of Crete. In 2018, the project has been majorly supported by the French Embassy in Greece and the Holy Church of Syros.
The Academic "soul" of the event is the programme's director and Associate Professor of the Department of Early Childhood Education at the University of Ioannina – CHS – GR of Harvard University, Nikoletta Tsitsanoudi – Mallidi.
The full 'syllabus' of the 4th International Summer University will be presented on Monday, March 5, in Athens, in the presence of the French ambassador to Greece, Christophe Chantepy…/IBNA